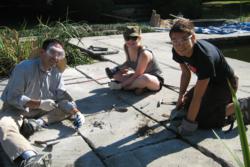 Our hope is that crowdfunding will translate to … saving more architectural heritage to support a green, sustainable world.
Boulder, CO (PRWEB) January 16, 2013
Adventures in Preservation (AiP) is introducing their volunteers to crowdfunding as a way of raising funds to cover costs of joining a volunteer vacation. AiP recently selected several crowdfunding sites to work with and is directing their volunteers to these fundraising platforms. This method for raising funds opens volunteer vacations to a broader segment of the public.
Adventures in Preservation is continually looking for ways to make their preservation vacations accessible to a greater number of people. Cost is often cited as a limiting factor to good intentions. Crowdfunding, asking lots of people for online donations, provides an effective new option for raising funds. This fast, new system may be the easiest way to raise money, replacing bake sales and garage sales.
There are a number of online fundraising platforms available, including Volunteer Forever, GoFundMe and IndieGoGo. Each site allows volunteers to create a customized page describing their project and fundraising goals and provides an easy way to receive donations online.
These sites allow volunteers to easily share their campaign with their extended network and beyond. "Volunteers who are excited about joining us on a preservation vacation, but need funds, will be able to reach out to exponentially more people than previously possible. Our hope is that crowdfunding will translate to more people traveling with AiP and, ultimately, saving more architectural heritage to support a green, sustainable world," says Judith Broeker, AiP's program director.
Crowdfunding is a valuable new resource not only for volunteers, but also for nonprofits such as AiP working to promote their opportunities to a broader market. As volunteers share their campaigns with their extended networks, they also spread the word about AiP's mission and the hands-on building conservation volunteer projects AiP coordinates.
Crowdfunding sites such as Volunteer Forever also assist the public by providing reviews of volunteer experiences. This feature is an informational tool for those searching for a volunteer opportunity that meets their needs. Reviews also benefit the organizations, spreading the word about well-run volunteer trips.
AiP has chosen Volunteer Forever as the primary crowdfunding site for its volunteers. Volunteer Forever's mission is to make it easier for people to volunteer abroad, and their website is the perfect resource for potential volunteers to kick-off their fundraising efforts. The platform can also be used to volunteer within the United States.
The Volunteer Forever crowdfunding tool allows people to tap into the power of social media and their extended networks, reaching out to as many people as possible. The donation process is simple and even allows for donors to share the campaign with their own networks.
Adventures in Preservation is a non-profit organization connecting people and preservation through enriching experiential programs. One- and two-week hands-on volunteer vacations give participants the opportunity to travel, experience their destination, and learn hands-on skills while saving a valuable community resource. AiP envisions a world where people use, understand, and appreciate historic buildings that are vital to economic and environmental sustainability. Learn more about how AiP volunteers combine their power with the strength of local communities to make a difference at http://www.adventuresinpreservation.org.