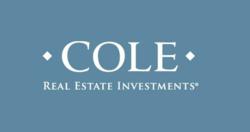 We attribute our success in acquiring more than $8 billion of core commercial real estate over the past three years to the experience and expertise across our real estate organization...
Phoenix, AZ (PRWEB) January 15, 2013
Cole Real Estate Investments (Cole), a diversified real estate company, announced it successfully completed more than $3.2 billion of real estate-related acquisitions in 2012 and sold approximately $670 million of real estate assets for a total of nearly $3.9 billion of commercial real estate transactions for the year. The firm finished the year with $12.4 billion of total real estate assets under management.
"As an industry leader, we continued to see high-quality assets come to market that fit our disciplined investment strategy, which focuses on retail, office and industrial properties occupied by creditworthy tenants on long-term net leases," said Marc Nemer, president and chief executive officer at Cole. "We attribute our success in acquiring more than $8 billion of core commercial real estate over the past three years to the experience and expertise across our real estate organization, from our in-depth research and strategy to our respected acquisitions team, and on to our rigorous legal and underwriting procedures. We've also built strong relationships with the commercial real estate brokerage community, developers and owners, and financial institutions that have allowed us to build well-positioned portfolios."
Cole's key acquisitions in 2012 included:

$1.1 billion of single-tenant retail properties, including a portfolio of 140 Family Dollar stores in a $192.1 million sale-leaseback transaction; a Stripes/Road Ranger portfolio of 20 properties for $80 million; a Walmart and Costco in Tallahassee, FL, for $25.1 million; and a Dollar General portfolio with 32 locations for $45.7 million.
$1.0 billion of single-tenant office and industrial assets, including four Amazon fulfillment centers in Tennessee and South Carolina for $247.4 million; a Merrill Lynch facility in Hopewell, NJ, for $135.0 million; a RSA Security property in Bedford, MA, for $93.5 million; and the Clorox Campus in Pleasanton, CA, for $86.9 million.
$894.8 million of multi-tenant retail assets, including the $124.0 million purchase of Canarsie Plaza in Brooklyn, NY; Eastland Center in West Covina, CA for $147 million; Greenway Commons in Houston, TX, for $68.3 million; and Valley Bend in Huntsville, AL, for $72.5 million.
$226.2 million of commercial mortgage-backed securities (CMBS) and other debt-related investments.
Overall, these acquisitions included more than 450 total properties, approximately 18.8 million square feet of commercial real estate and 25 classes of CMBS bonds.
The firm's active portfolio management was executed on both tactical and strategic levels across its portfolios, resulting in $670 million of dispositions. A key sales transaction included City Center Plaza, headquarters for Microsoft Bing, in Bellevue, WA, for nearly $375 million after being purchased for $310 in 2010.
Other transactions included a portfolio of CVS and Walgreens for $69.4 million and Manchester Highlands in St. Louis, MO, for $54.0 million.
"We believe that active management of our portfolios — dispositions and reinvestments aimed at harvesting gains, mitigating risks, or managing tenant and geographic exposures — can help to maximize risk-adjusted returns," Nemer added. "In 2012 this led us to take gains on some assets, such as City Center Plaza, and redeploy the proceeds into other attractive investment opportunities."
Other key accomplishments for the diversified real estate firm in 2012 included:
Originating 40 loans totaling more than $1.7 billion of financing.
Completing 2.5 million square feet of new, renewed and extended leases.
Investing $229.1 million in joint venture and build-to-suit transactions.
About Cole Real Estate Investments
Founded in 1979, Cole Real Estate Investments is one of the nation's leading acquirers and managers of high-quality, income-producing retail, office and industrial real estate assets. Cole primarily targets net-leased single-tenant and multi-tenant retail properties under long-term leases with creditworthy tenants, as well as single-tenant office and industrial properties, using a conservative investment and financing strategy. According to Real Capital Analytics, a leading industry research firm, Cole has established itself as the No. 1 buyer of all single-tenant assets for the past 10 years. At the end of December 2012, Cole-related entities owned and managed more than 2,040 assets representing approximately 76.4 million square feet of commercial real estate in 47 states, with a combined acquisition cost of more than $12.4 billion. To learn more, visit http://www.colecapital.com.
Forward-Looking Statements
Certain statements in this press release may be considered forward-looking statements that reflect the current views of Cole Real Estate Investments and Cole's management with respect to future events. Forward-looking statements about Cole's plans, strategies and prospects are based on current information, estimates and projections; they are subject to risks and uncertainties, as well as known and unknown risks, which could cause actual results to differ materially from those projected or anticipated. Forward-looking statements are not intended to be a guarantee of any event, action, result, outcome or performance in future periods. Cole does not intend or assume any obligation to update any forward-looking statements, and the reader is cautioned not to place undue reliance on them.