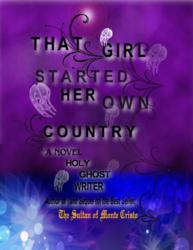 Los Angeles, CA (PRWEB) January 15, 2013
"Aaron Swartz's death is a loss for all humanity," Jacob Applebaum, a distinguished hacker, said by email today.
He was a "Web genius," wrote Lawrence Lessig, the Harvard Law School professor and director of the Edmond J. Safra Center for Ethics at Harvard University.
Was it necessary for Swartz to be labeled as a felon?
Aaron Swartz as a hactivist was committed to liberating information not unlike the characters in That Girl Started Her Own Country. Facing federal charges, a possible sentence of 35 years in prison and a $1 million fine, for downloading subscription-only academic papers with the intent to distribute them, Swartz hanged himself in his apartment in Brooklyn on Friday. He was 26.
Sample papers Swartz attempted to set free include "John Berryman: The Poetics of Martyrdom" and "Mapping the Niger, 1798-1832: Trust, Testimony and 'Ocular Demonstration' in the Late Enlightenment." On its own initiative, JSTOR, which hosts the academic papers and never pressed charges against Swartz, started offering limited free access to its archive just this week.
"Aaron has been depressed about his case/upcoming trial," Susan Swartz, Swartz's mother, posted the hacker section of the Ycombinator Web page today. "But we had no idea what he was going through was this painful." Aaron Swartz (image via The Atlantic Wire)
Swartz's death moved his fans and colleagues into deep anger. His suicide had one main cause –the federal government's policy of adding the maximum number of charges to scare those indicted into a quick and easy settlement without regard for the potential consequences to the accused. This can be seen through the fictional discussions seen in That Girl Started Her Own Country as FBI agents talk with a US Attorney about extrapolating charge upon charge over perhaps only one event in order to stack as much as a life sentence for victimless crimes.
Quoting from the book:
9 CARNIVORE
On a hot July day in Miami…
AT THE US ATTORNEY'SOFFICE, Special FBI Agent Binder and his partner met with the prosecutor O'Solivan. The conversation went as unpredictably as the court hearing.
"You two have made a fool of me. I've never been so embarrassed. I'm thinking of making a motion to dismiss this case before it ruins my career," O'Solivan said.
"The worst is over. We can nail this case and bring up far more serious charges. Remember we haven't yet charged her with securities fraud and from that we can extrapolate a dozen charges, such as wire fraud, mail fraud, travel fraud, money laundering, racketeering, etc., etc., etc."
"Yes, that is standard operating procedure, however, I have a very bad feeling that that also will backfire on us."
"Why do you feel that," Binder asked with a disquieted look on his face.
"I talked to the United States Attorney General about the certificate needed to limit what discovery we produce and when I asked why he couldn't provide that fricking certificate he told me that there was a good reason, but he couldn't tell me until I was given a higher security clearance."
"That seems strange. Did I remember to tell you that when I tried to get more information on the tattoo fingerprints of Princess Jane Doe, our forensics lab in Washington DC acted like they had never confirmed any past details to me? I have notes written and the FBI does presumably not know the person that gave me the details. I don't know if I wrote the woman's name wrong or if there is some cover-up going on," Binder said.
"The woman that I originally talked to, told me that, 'the suspect's fingerprints are the most bizarre we've ever seen here.' There must be others at the lab that knows of the case. I sent the fingerprints on again to the person that answered the phone and I made sure I got the name spelled correctly this time."
"Why would anyone want to cover this up?"
"Well, let's suppose that this girl is a wayward asset of the CIA, or her father is a powerful head of state, like the King of Spain or Morocco."
"That would make sense, especially since our source in Gibraltar said she is from a royal family. She could be both a royal and an operative, like prince William of Wales is both a royal, and at the same time, a low ranking solider in his country's military."
Binder continued, "It also seems strange that both judges insisted on addressing her as 'Her Highness.' It seems impossible that someone could have gotten to Judge Goodman so quickly, because all calls are monitored and that prisoner number of the little princess hasn't been activated yet to make calls or send emails. The FDC mailroom says not one letter has gone out from her. I also had our carnivore program scan all of the female inmate's recorded calls and emails and there is no reference that shows any relation to our subject (other than the inmates bragging to their friends and relatives that they know her personally) so she couldn't have sent a signal out through them. We are also using carnivore to scan all chatter worldwide to see if we can pick up any insiders talking about this case."
O'Solivan responded, "Another strange thing is that I've never seen a trial judge already have a transcript of a new case that only had one recent hearing in front of a magistrate."
"Well," Agent Whitehead said with confidence, "That could just be that Judge Moore knew he would be the trial judge and ordered the transcript because of the unusual front page story in the Miami Herald."
"Let's meet tonight at The Titty Bar. After a few drinks we might be relaxed enough to figure this out," Agent Binder suggested.
"All right, let's say 10PM."
"Sounds good to me, let's meet up then."
End of quote from chapter 9 of That Girl Started Her Own Country available on Amazon in ebook at http://www.amazon.com/dp/B0094IH8HC/ and in paperback through online retail distributors such as http://www.barnesandnoble.com/w/that-girl-started-her-own-country-holy-ghost-writer/1112976233?ean=9781479229819.