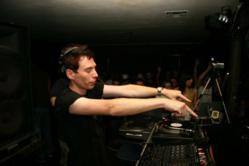 Photek's remix of Daft Punk's 'End of Line' was nominated for a Grammy in 2011
Baltimore, Maryland (PRWEB) January 18, 2013
One of the pioneers of drum & Bass and electronic music, Photek, will be performing in Baltimore at E-Villa. Photek started making drum and bass tracks in the mid 1990s. In the early 2000s, he started creating ambient house music and dance tracks, which one of his songs, "Mine To Give" reached the top spot on Billboard's Hot Dance Club Play List.
Photek, the Brithish Born DJ and talented song producer, is currently living in Los Angeles and is producing some monster remixes. His remix of Daft Punks "End of Line" was nominated for a Grammy in 2011.
In early 2012, one of his tracks appeared on DJ-Kicks Exclusives, which created a lot of buzz to kick off 2012. Photek has since created some incredible remixes. Check one of them out here!
E-Villa, a speak-easy type of bar, has hosted some of the best bass deejays in the world such as Baauer, Coki, & Eliot Lipp. E-Villa, which claims to be one of the best bars in Baltimore, has an interesting dinner, cocktail, and hookah menu. Owner, Helen Metaferia, says, "The shows past shows have been very successful. We have been playing some of Photek's tracks, and they sound really good. Sounds kind of like hip hop!" Event manager, Chris Keating, says people should get their tickets early. He said they are getting calls from as far south as North Carolina and as far north as Philadelphia. Sounds like a show not to be missed for bass lovers.
E-Villa, opened 2011, is located in the heart of Mt. Vernon, Midtown Baltimore. E-Villa boasts very tasty appetizers and entrees, including Ethiopian & Latin influenced entrees. E-Villa has also become known for it's happy hours and bringing international deejays. E-Villa is the perfect place to take a date, friends, & coworkers. For more information about E-Villa, go to http://e-villa.us or call 410.244.5122.
# # #
Address: 917 Cathedral St. Mt. Vernon, Baltimore, MD 21201
Phone: 410-244-5122
Website: http://e-villa.us
Email: reservations(at)e-villa(dot)us