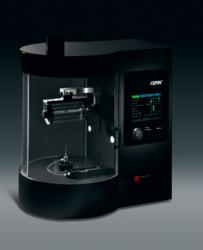 4SPIN® removes many of the obstacles that have so far hindered advances in the broader application of nanofibers, especially low productivity
(PRWEB) January 16, 2013
New ambitious project has the potential to change the shape and direction of current research into nano-applications. Contipro's laboratories have developed 4SPIN®, a device that removes many of the obstacles that have so far hindered advances in the broader application of nanofibers, especially low productivity and hence the high prices of nano-materials in comparison with conventional materials. Another limitation has been that, up to now, it has not been possible to create nanofibers from certain materials.
"This can be demonstrated, for example, if we look at the use of nanofibers in medicine. The human body's extracellular matrix includes hyaluronic acid, which would form an excellent basis for nanofiber structures in medical applications, but it has not previously been possible to produce nanofibers efficiently using hyaluronic acid. 4SPIN® has the ability to do this, paving the way, for example, for the creation of guides regulating the growth of damaged nerve and muscle fibres, or for the creation of spatial structures that are fitted with the live cells of patients in order to produce their own customized tissue," says Vladimir Velebny, director of the Contipro holding, as he explains the significance of 4SPIN®.
"The 4SPIN® laboratory device is protected by four international patents and one industrial design right. These days, all manner of things are claimed to be revolutionary, but we are really convinced that 4SPIN is the genuine article. We expect keen interest in the device, especially among the universities, academic institutions and innovative companies," says Contipro spokesman, Tomas Papez.
Research into new nanomaterials is a very complex and protracted affair. There are great hopes for nanotechnology, as they are expected to benefit many areas where conventional materials have reached the limits of their use. It is here that 4SPIN®, the new electrospinning device, will step in to facilitate and enhance the efficiency of research into new materials.
Contipro is already working on a pilot version of the device to be used for the industrial production of nanomaterials.
The device is controlled intuitively via a touch screen. The central control system also ensures the stability of defined process conditions and the possibility of repeat measurements, factors essential for proper research. The possibility of combining four types of emitters and four types of collectors means that nanofibers from the whole range can be obtained, from disordered nanofibers produced at a precisely defined quantity to large volumes of directionally aligned nanofibers. Device is capable of use electrospinning, electroblowing and electrospraying technology. Besides nanofibers and microfibres, the device can also be used to prepare nanoparticles, used, for example, in the diagnosis of diseases or for the targeted treatment of tumours.
Nanotechnology in general has effectively become part and parcel of our everyday lives. Layers of nanofibers can be found in filters, work clothes, and bedding, where their ability to deliver miniature dimensions is exploited. What makes them particularly unique is their enormous surface area relative to their tiny volume, and the ability to prevent the penetration of bacteria and viruses without obstructing air flow.
To give an idea of the scale, nanofibres are fibres a thousand times finer than a human hair.