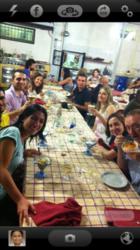 I'm not into image or video apps, but this one got me.
Turin (ITALY) (PRWEB) January 16, 2013
Aroundly, a new player on the photo sharing scene, has surpassed the 50,000 mark for image uploads with its free photo sharing app, available for Apple iPhone, iPad and iPod Touch.
"Aroundly is like a photographic Wikipedia, where everyone is user and contributor of a continuous stream of pictures coming from every part of the globe," explained app developer Riccardo Raneri.
The concept behind this new photo sharing platform is based on simplicity and immediacy. Individuals with the Aroundly app can snap images of everyday life. The images are instantly geo-tagged and uploaded to Aroundly.com, where they're available for public viewing.
Aroundly users can remain anonymous, making it a particularly popular platform among individuals who prefer to maintain a high degree of privacy, while still sharing with the world. Viewers can follow a particular user's image feed, making it simple to stay updated on friends and family members.
The Aroundly App for iPhone, iPad and iPod Touch has enjoyed popularity on the App Store, where it has received tremendous reviews, including the following.
"This has potential… I think as time goes by, this app will have the potential to go far. You can share your artistic values and look at others, art! All without signing up!! Try it!"
"I'm not into image or video apps, but this one got me."
"Works well on iPad…I love this app; it takes geo-tagging to the next level! The interface is easy to use, and it's interesting to see what other people using the same app are posting. Try it. It's amazing!"
Aroundly serves as a world photo album. Users can visit Aroundly.com, where they'll view a map that enables them to select an exact date, time and location. Users can then view images that were taken at this precise moment in time. For anonymous users, images older than 30 days are automatically deleted.
Aroundly.com's web-based services are completely free to all users and there is no sign-up required. The app is also available as a free download via the iTunes store at https://itunes.apple.com/us/app/aroundly-photo-sharing/id464912746?mt=8
To learn more about this new anonymous photo sharing platform, visit http://www.aroundly.com .
###