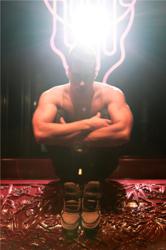 MACAU & HONG KONG (PRWEB) January 16, 2013
Members of southern China's most luxurious performance lounge will be treated to a series of exhilarating nightly performances when Saulo Sarmiento takes the showroom stage at CHINA ROUGE. One of the world's best, most skilled pole dancers, Sarmiento will appear from 4 to 24 January, wowing audiences with incredible strength and artistry.
The multi-talented Sarmiento is the latest in a long line of high-caliber stars to appear at the Alan Chan-designed CHINA ROUGE. An accomplished dancer and winner of the Pole Art 2012 competition, he is a master of many of the aerial acrobatic skills made famous by Cirque du Soleil, which he learned while touring the world with the renowned Kaleido and Les Farfadais troupes. These skills, spiced with a model's good looks and impressive physical presentation, have helped Saulo take his routine to a level of unmatched complexity and beauty.
Guests can also pair the experience of watching Sarmiento on stage with an impressive performance by CHINA ROUGE's master mixologists. CHINA ROUGE has announced that it is extending its promotion featuring world-class molecular cocktails – where scientific techniques bring out extraordinarily intense flavors – throughout Sarmiento's performance run. Savor an irresistibly modern interpretation of the well-loved Strawberry Daiquiri, which separates sweet from sour as newly structured fresh lime air sits over a blend of rum, Cointreau and ice, topped off with delectably sweet strawberry caviar.
For more information on Saulo's scintillating show and other upcoming attractions at Macau's most luxurious and aspirational nightspot, contact the CHINA ROUGE team at chinarouge@galaxyentertainment.com.

Performance schedule is subject to change without prior notice.
About Galaxy Macau
Galaxy Macau™ is the only first truly integrated resort hotel in Macau. Developed at an investment of nearly HK$16.5 billion, it includes more than 2,200 rooms, suites and villas across three world-class Macau Hotels: the five-star Galaxy Hotel™, Hotel Okura Macau and Banyan Tree Macau. Facilities include Grand Resort Deck with lush oasis gardens covering its 52,000 square meters, the world's largest Skytop Wave Pool and a 350-ton white sand beach; a selection of more than 50 food and beverage outlets, including the widest selection of pan-Asian and International cuisine under one roof in Macau; UA Galaxy Cinemas, a nine-screen, 3D-equipped complex unlike anything in Macau; CHINA ROUGE, an exclusive, members-only performance lounge; and two boulevards of distinctive retail shops. For more details, please visit http://www.galaxymacau.com.