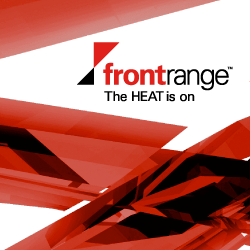 Drupal CMS with HTML5 is the best choice for your website infrastructure.
Pleasanton, CA / Dallas, TX (PRWEB) January 15, 2013
Magic Logix has recently developed a brand new website for FrontRange Solutions at http://www.frontrange.com. FrontRange is the global leader in Hybrid IT Service Management (ITSM) solutions for enterprises of all sizes. With its suite of HEAT applications, FrontRange is the only ITSM provider in the world that delivers Service Management software with fully integrated Voice Automation and Client Management capabilities on-premise and in the cloud.
Magic Logix built the site using Drupal 7 as a CMS and built the design based on HTML5 technology. Magic Logix has partnered with 1185 Design during the design phase of this project. 1185 team has done an excellent job in designing the layouts. The newly revamped website has features that include blogs, multimedia, social media integration, and an Ajax portfolio directory. Technologies used include jQuery, Ajax, Webfronts, YouTube videos displayed in lightboxes and Drupal modules like Taxonomy, Content types, View, Image types and 3rd party Drupal Modules. The cutting edge design and functionality also boasts a unique homepage where entrepreneurs are showcased, displayed with their investing team in slides. Each portfolio company will also have its own profile page, and a strong internal search will be utilized on the website as well.
FrontRange has recently launched HEAT® Cloud 2012.3, cloud-based ITSM platform. HEAT® Cloud 2012.3 features significant enhancements in three primary areas: social IT, global and local support, and cloud infrastructure improvements. HEAT Cloud 2012.3 is designed to support critical workflow-based service management tasks that range from service desk operations to more complex and configurable service management operations built on industry standard best practices.
We are thrilled to implement HTML5 with the design, functionality, and the state of the art features and technology on this website. The hard work of the Magic Logix team coupled with the collaboration of 1185 design has equated into a stellar website for an excellent client: FrontRange Solutions.

Hassan Bawab, Founder and CEO of Magic Logix.
About Magic Logix - Global Digital Marketing Agency
Headquartered in Dallas, Texas, Magic Logix is a leading global digital marketing agency that drives client business growth by merging creativity, technology and online marketing. Through proprietary client intake, workflow and project management processes, Magic Logix consistently yields top quality results, client satisfaction and long-term relationships. Through continual discovery of new industry best practices and partnerships with industry leaders, Magic Logix delivers world class business expansion solutions to mid-sized to Fortune 500 companies and government agencies. Magic Logix continually ranks internationally in the top ten Web Design, SEO and Web Development firms by Top SEOs, Best Web Design Agencies, Interactive Media, Communicator Awards, Tech 200, is GSA certified and a fast growth company in Inc. 500. Our in-house staff works closely with clients to provide completely customized solutions using the latest technologies, best practices and originally developed approaches to produce top-quality ecommerce solutions, marketing automation tools, custom content management system (CMS) and customer relations management (CRM) integration, and dynamic Web presentations. For more information, please visit http://www.magiclogix.com.