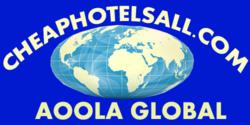 Book hotels for worldwide locations and also view the discounts.
(PRWEB) January 17, 2013
Cheap Hotels : Aoola Global has launched hotel booking website http://www.cheaphotelsall.com. In this website any person from any location can book their hotels for any part of the world. Hotels in London, Hotels in Paris, Hotels in Venice, Hotels in New York, Hotels in Dubai etc. all are available here.
This website offers hotel bookings with low price guarantee if any other website offering the price less than this website Aoola Global will return the rest of the amount. This website is very user friendly first you search and view the hotels with pricing of each hotel and also the discount offered by hotels.
INVEST IN AOOLA GLOBAL NEXT PROJECT
Aoola Global is launching a new project which is 'Worldwide Online Airline / Hotel Reservation' Project. In this project Aoola Global require some investors who will invest in this project because requirement for this project is $ 2 to $ 3 Million USD.
In this project Aoola Global will get licenses for 500+ Airlines which will cover whole world and all routes of the world. Aoola Global already obtained licenses for 200000 hotels for their reservation.
Why any investor will prefer to enter in to this business?
From investment point of view this project is very good. In 2011 the number of domestic passengers of airlines is: 1.77 Billion and in 2011 the numbers of international passengers of airlines are: 980 Million. Thus in 2011 approx 2.60 Billion passengers availed airline travel and more than 2 billion hotel bookings.
99% of the tickets are booked through any of the online website. A few websites are selling airline tickets for worldwide locations. Our target is to get 30% business in next 5 years and 50% in next 10 years whatever the revenue generated from online booking of the airline tickets.
Aoola Global are well experienced in this field. Earlier Aoola Global had 2 airline portals with less number of airlines so that Aoola Global have stopped that services and want to expand services to 500+ airlines. Some other things like hotel bookings, travel services etc will also be included in this portal. The complete business plan for this project is available at http://www.cheaphotelsall.com/investor.aspx . Interested investor may download and read the business plan and investors section in detail that how you can invest and how much you may gain from this project.
Expected Revenue:
If website will get 5 million bookings for airline reservation in a year and get approx $20 USD (minimum commission) on every ticket as commission amount, company will get: $ 100000000 USD ($ 100 Million USD) from airline bookings and same as in hotel booking, thus in a year company may earn $ 200 Million USD.
Video Url : http://youtu.be/rBezJ2D4otY