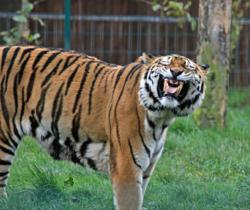 Blackpool, Lancashire (PRWEB UK) 18 January 2013
From grinning camels to smiling orang-utans and beaming tigers, these really wild residents at Blackpool Zoo are bound to raise a smile on the dreaded Blue Monday - 21st January.
With super-sized credit card bills coming through the letterbox, Christmas is a distant memory and summer still seems out of reach as we battle our way through the coldest two months of the year.
Jude Rothwell, Marketing and PR Manager at Blackpool Zoo, said: "Throughout the year we get lots of visitors sending us fantastic pictures of our animals and they really make us smile so we thought we would share them with everyone in the hope that they would cheer people up on what is supposed to be the most depressing day of the year!
"Here at Blackpool Zoo there is always something to celebrate or look forward to so this is our way of spreading the joy ahead of what is set to be a fantastic year for us!"
Blackpool Zoo is open at 10.00am every day of the year except Christmas Day. From Monday 5th November 2012 to February 2013 closing time is 3.45 and last admission is 3.00pm. Visitors can save on admission prices by booking online at http://www.blackpoolzoo.org.uk.
Pictures show: A selection of animals that look like they are smiling! If you have any problems viewing the pictures please contact Paula Holden on 01772 679383 or email paula (at) icgonline (dot) co.uk
More information about Blackpool Zoo
Blackpool Zoo celebrated its busiest year to date in 2012, which was also its 40th anniversary.
It is owned by ParquesReunidos, the second largest European leisure parks operator and a leading world-wide player. The zoo is home to over 1,500 mammals, birds, reptiles and invertebrates set amidst thirty-two acres of mature woodland and lakes.
The zoo's signature animals include elephants, giraffes, big cats, gorillas, orang-utans, sea lions, primates, zebras and kangaroos. It is open every day of the year, apart from Christmas Day, from 10am.
For further information please contact:
Paula Holden or Julie Hackett at ICG on 01772 679383 or email paula (at) icgonline (dot) co.uk or julie (at) icgonline (dot) co.uk
Out of office hours contact: Paula Holden on 07772268378