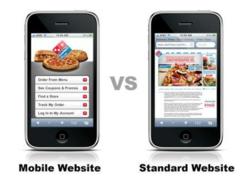 Portland, Maine (PRWEB) January 18, 2013
Most mobile marketing companies are offering a fee structure similar to that in the credit card industry, complicated and confusing. eMarketMobile's strategy is just the opposite, to simplify what it takes to get local businesses started in mobile marketing. "Most companies charge $500 or more for a mobile optimized website," says Terry Collins of eMarketMobile. 'We include a mobile optimized website with click to call buttons and bold simple navigation."
With mobile marketing still in its infancy, eMarketMobile believes it's critical that local businesses have options that simplify their entry in the mobile marketing world. "Because you certainly don't want your mobile marketing campaigns pointing to a website that is not optimized for mobile, we include a turnkey mobile website in each one of our packages," says Collins. This may be one of the biggest differences between eMarketMobile and its competitors, in the local mobile marketing ecosystem.
About eMarketMobile
eMarketMobile has been involved in the mobile marketing world since 2011. Our Mission is simplify the entry of local businesses into the mobile marketing arena. Our cofounders have been involved in the digital marketing and search engine optimization fields since 1999.