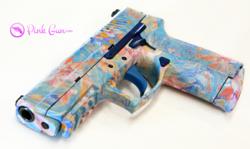 I just think this is totally badass; I've never seen anything like it.
Fort Lauderdale, FL (PRWEB) January 17, 2013
South Florida based startup, Florida Discount Guns Inc, dropped some jaws today, when it launched http://www.PinkGun.com and http://www.theNEDG.com, unveiling unconventional looking firearms and technology that struck strong chords with their respective audiences.
"I just think this is totally badass; I've never seen anything like it," said Amber, a local South Beach model, referring to the blue pistol with pink flowers on the home page of PinkGun.com, a site which allows consumers to select a firearm, decorate it, and then have it shipped to their local gun dealer for pickup.
"I really like the idea that I can personalize it to my tastes – I ordered a 9mm, with skulls, to keep in my nightstand," said the tattooed female about the DIY gun decoration software on PinkGun.com.
Those who already own a firearm can also use the same software to get a quote for decoration services, and ship their gun in for decoration, but as it says on the pricing page, be ready for 'sticker shock', because these guns and services aren't cheap.
Robert Valli, a 41-year-old resident of Fort Lauderdale, and founder of the fledgling design and technology startup says, "PinkGun.com is really all about people having fun with color, personalization, and technology. The NEDG.com website, on the other hand, is more geared to Military and Law Enforcement, and features a sinister looking conversion kit that turns two semi-automatic pistols into something which resembles a double-barreled rifle, with two pistol grips."
But what makes the 'Never-Empty Double Gun' (or 'NEDG') notable is its theoretical ability to allow its operators to clear a jam, or reload the weapon, while simultaneously maintaining it in a 'live fire/ready' status - in other words, not only does it have ultra high (60 bullet) capacity, but it can also be managed so that the weapon never completely runs out of bullets.
"I think the NEDG might make a good 'entry gun' for the Military or Law Enforcement," says Chris, a US Marine of TX, just back from Afghanistan, about the patent-pending weapon. "It's an interesting idea. I hope he gets the funding to develop the prototype. I'd like to test one out and put it through its paces. It looks fun to shoot."
"Money is definitely the limiting factor in both projects," admitted Valli. "It's not easy, cheap, or fast to do anything in the firearms industry, but I'm satisfied with what we've accomplished so far, and I'm excited about our prospects moving forward this year. We should be rolling out another version of the software featured on Pinkgun.com, later this Spring, except it will be mainly oriented around hunting and tactical designs."
For more information:
http://www.TheNEDG.com
http://www.PinkGun.com
http://www.FloridaDiscountGuns.com
Florida Discount Guns Inc. 650-804-5391
info(at)floridadiscountguns(dot)com