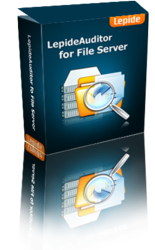 A complete File Server auditing and reporting solution
(PRWEB) January 17, 2013
Lepide Software announces the launch of LepideAuditor for File Server– a comprehensive File Server auditing software that tracks and reports changes made to File Servers in the forest. It allows administrators to keep a check on all activities taking place on File servers and helps to detect unauthorized access to sensitive data, harmful changes to the permissions, destructive changes to files, shares, permissions, folder structures and other items.
LepideAuditor for File Server: Features and Functions :
1. Centralized repository for all events generated by changes made to all File servers in the
network.
2. Real-time alerts for custom critical changes made to File servers to prevent security breach and
compliance violations.
3. Comprehensive reporting option with a number of out-of-the-box reports.
4. Schedule reports for automatic generation and delivery to any intended recipient.
5. Perform requirement-centric auditing by configuring audit policies on the basis of various
attributes such as File server name, Monitoring Time, Drive, Directory, File Name, File Type,
Process and Events.
LepideAuditor for File Server can track all changes made to File, Folders, Shares and Permissions from a centralized platform and provide who, what, when and where details of all changes. It eliminates the requirement of native services for auditing and overcomes shortfalls associated with them by providing ability to:
a) Keep a close watch on all File Servers in the network by tracking who made what change, in
which file, folder, share or permissions and from where
b) Protect File Server environment from security breaches and unauthorized accesses.
c) Perform successful audit of all File servers in the network and satisfy compliance requirements.
d) Save time and cost involved in performing native auditing.
e) Archive change logs efficiently for years to support forensic analysis and other requirements.
LAFS is all-in-one software to perform comprehensive audit of all File servers in the network. It captures complete details like Who, What, When and Where information for all changes made to File Servers. Software helps you to perform requirement centric auditing by capturing only required events from File Servers.
Versions Available
LepideAuditor for File Server is available in two versions i.e. Freeware and Enterprise edition. Freeware edition is available free of cost and for lifetime usage but it provides limited access to software features.Enterprise edition is fully functional version of LepideAuditor for File Server and is available without any access limitation. To check out complete software functionalities, a trial license of enterprise edition can be obtained.
Supported Windows Operating system: Windows 7, Windows Vista, Windows XP, Windows Server 2008 R2, Windows Server 2008, Windows Server 2003, Windows 2000 Server.
About the Company
Lepide Software Pvt. Ltd. is a leading provider of solutions in the Network management, Server
management and IT management space. LepideAuditor for File Server is a new product in the portfolio of auditing software offered by Lepide Software. Company's strength lies in its deep industry knowledge and skilled and motivated workforce that have helped launch a number of cutting-edge products that surpass users' expectations. To know more about the company you can visit its website: http://www.lepide.com