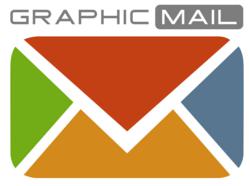 email readership continues its migration towards mobile devices, responsive design becomes even more important to mobile and email marketers
Geneva, Switzerland (PRWEB) January 16, 2013
While much of the digital marketing arena for 2013 looks to be 'business as usual', there are sectors where a definite shift in both strategy and direction will shake things up. GraphicMail's Nicholas Eckert takes a gander at the year ahead and focuses on the areas where he sees either continued or new growth.
Responsive design
It might come as no surprise that responsive web design will continue to dominate and, to a large degree, determine the longevity of a business's digital presence. Tablet sales are expected to exceed 100 million in 2013 and according to a survey by the Pew Research centre, more than 60% of tablet users preferred reading the news on their devices. Maintaining a site's compatibility with all modern media devices is of cardinal importance in the race to stay relevant.
"As email readership continues its migration towards mobile devices, responsive design becomes even more important to mobile and email marketers," says nick when asked about responsive design.
Segmentation and consumption of emails
A business might deliver one service, but it cannot be stressed enough how important it is for email marketers to decentralize their approach to communications.
Segmented, targeted emails reflect a well-researched, individual approach to a business' mobile and email marketing; giving them the edge when looking to relate to consumers. According to MarketingSherpa's 2012 Email Marketing Benchmark Report, 32% of marketers say segmenting their email database is one of their organization's top objectives in the next 12 months. On top of that, 52% of marketers say they have a great need to improve email database segmentation.
Whether B2B or B2C, offering personalized mobile and email marketing solutions like those tailor made by GraphicMail, enables a company to broaden its base of customers and meet the challenges of keeping up with ever-changing communication preferences by individuals.
While email marketing is showing no signs of slowing this year, the manner in which consumers interact with this stalwart of digital communication will most definitely change. "Email consumption patterns will change beyond just the device - think of mail innovations such as priority inbox, Xobni and Sanebox. Messaging relevance, segmentation and contact management will become key to getting ideal inbox placement."
Migration to mobile
Mobile marketing and site hosting is fast becoming a definite force to be reckoned with. According to Google's consumer barometer, 44% of people in the US use a smartphone on a daily basis while 13% of the population make use of a tablet. This number is set to increase exponentially as the Pew survey clearly shows. Consumers are evolving into mega consumers with a hunger for faster and more dynamic marketing experiences and ESPs with the ability to drive a marketer's vision on this platform will form the backbone of the new age of mobile marketing.
GraphicMail's mobile site creation and hosting features allow for a personalized and responsive approach to mobile marketing. As shortcode has proven to be a very effective means of selling, the price cut in their 'text message with a shortcode' service gives clients the advantage of capitalizing on annual consumer spending hikes. By using shortcodes for promotional offers businesses can also reach out to consumers during relatively quiet spending times.
As the world braces for not multi, but hyper-tasking digital users in tune with their global counterparts, GraphicMail is poised to take advantage of its expertise in mobile and email marketing. 2013 will see the company's digital marketing services continue to expand and deliver first class products and support to a host of different clients and businesses.