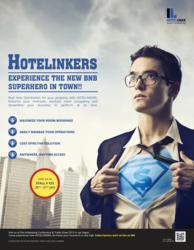 Bengaluru, India (PRWEB) January 16, 2013
The Innkeepers Show, exhibits an amazing array of cutting edge technological tools essential for the hospitality industry and is an ideal way for innkeepers across the globe to get great ideas on how to maximize their resources and profitability.
For B&B's or small and mid-sized properties, one of the biggest hurdles is managing their limited room inventory through the front desk and diverse distribution mediums like online channels, website, GDS, social media etc. All this has to be done simultaneously while they are managing their other operations; it becomes a complete juggling act. Hotelinkers provides an effective and extremely simplified solution to all these problems; it is a distribution system on the cloud that completely centralizes your room inventories.
Prabhash Bhatnagar, Founder, Hotelogix explains how Hotelinkers can effectively eradicate all complexities of distribution: "A single point control to availability & all third party bookings makes Hotelinkers an unparalleled approach to simplicity in distribution. Your rooms are available when they are, everywhere. For B&Bs that usually operate on limited resources, but still need bookings from multiple sources, this will be nothing short of a dream come true."
Hotelogix is extremely proud to be exhibiting at America's biggest and most important tradeshow in the Innkeeping industry. With customers now in over 50 countries globally using the Hotelogix platform, Hotelogix wants to increase its liaisons with the B&B industry.
Aditya Sanghi, CEO, Hotelogix says, "Hotelinkers real time distribution is a compelling solution for the B&B industry. We look forward to networking with the B&B owners and other stakeholders of this industry at the innkeepers show, it gives us an excellent opportunity to understand them better."
Hotelinkers provides an opportunity for B&B owners to compete in the Global Marketplace in a very effective manner. This is a tool which is easy-to-use, can work with your existing computer systems and is very price effective.Visit our stall at booth number 323 from the 28th to 31st of January and get a personalized experience of how Hotelinkers works. An appointment can be pre booked on our website:http://www.hotelogix.com.
ABOUT HOTELOGIX
Hotelogix is developed by HMS Infotech Private Limited and is focused on developing innovative solutions for the hospitality and travel sector. Hotelogix today is active in over 40 countries like USA, Africa, China, India, Peru etc. It has Channel Partners in India, Philippines, Thailand, Caribbean Islands, Mexico and UK and is expanding in more geographical strata, rapidly. Hotelogix offers a 24x7 live support to its customers and is hosted on highly reliable and secured cloud services.
To know more: http://www.hotelogix.com
Like Us on Facebook: http://www.facebook.com/Hotelogix
Connect with Us on LinkedIn: http://www.linkedin.com/Hotelogix
Follow Us on Twitter: twitter.com/Hotelogix
Read our blog on: http://www.hotelogix.com/blog/