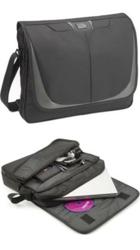 This bag brings with it a professional business-like look
Kent (PRWEB UK) 16 January 2013
Antler's Executec Messenger bag is part of the business bag classic collection of bags that will fit laptop computers with a screen up to a 15.4" . The laptop compartment is padded to provide protection for precious mobile equipment. Antler has created extra security for the contents this bag would hold by making the main compartment lockable. The front organiser pocket is really handy for holding writing utensils and a mobile. The facility to zip the front pocket makes it nice and easy to access the bits and bobs secured in there.
Paul Steadman says; "Messenger bags will always have that easy to carry and casual relaxed looked to them. The bags are handy for quickly slipping documents into and of course the continual companion of a laptop also. They will never lose their appeal to the light traveller."
This bag brings with it a professional business-like look that can have an attraction for most travellers.
Antler is a British luggage manufacturer that has kept its name and prestige for many years and customers still look to this name for quality and style combined.
Luggage Superstore's established site is in West Kingsdown, Kent. Their aim is providing competitive prices of the highest quality luggage and top calibre Customer Service for online luggage shopping. Luggage Superstore recommends Antler.
Trina Chee-a-kwai
Luggage Superstore
01474854666
Email Information