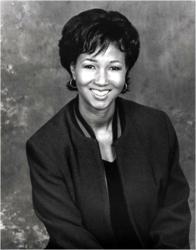 Washington, DC (PRWEB) January 15, 2013
Dr. Mae Jemison, the first black woman to go into space and NASA's first Science Mission Specialist, has been confirmed as a keynote speaker for the 2013 annual conference of WTS International, the association for the professional advancement of women in transportation.
Ms. Jemison joins Gloria Steinem, the iconic leader of the women's liberation movement in the late 1960s and 1970s, who will also be addressing conference attendees in the spring.
"We are honored to have Ms. Jemison speak to our members and partners at the Annual Conference this year. She epitomizes WTS International's goal of attracting, retaining, and advancing women in transportation," said Margaret Mullins, WTS Managing Director. "Just like the transportation field, aeronautics and science are male-dominated industries. Despite early resistance to her goals as far back as her college years, Ms. Jemison excelled on a career path that included science, technology, leadership, and public service. Our WTS members help each other develop professionally and climb through the ranks in both the public and private sectors and we take pride in knowing we are helping develop the world's future generations of transportation leaders. Mae Jemison will undoubtedly inspire our constituency onward when she addresses them at the conference this year," Mullins added.
The Annual Conference, being held this year in Philadelphia, PA, May 15 – 17, is WTS International's flagship event. It attracts more than 500 corporate and governmental industry leaders worldwide, including executives, CEOs, government administrators, and leading engineering authorities. Attendees at the conference gather to network, discuss the state of the world's transportation infrastructure, strategize on advancing professionally through glass ceilings, and explore the local city's successful municipal and private transportation and traffic projects. For the full duration of this year's Philadelphia conference, private corporations, public agencies and government officials invested in every transportation mode will exhibit, present, learn, and network.
Dr. Mae Jemison, the first woman of color in the world to go into space, served six years as a NASA astronaut. She flew aboard the Space Shuttle Endeavour, STS-47 Spacelab J(apan) mission in September 1992 and was NASA's first Science Mission Specialist performing experiments in material science, life science and human adaptation to weightlessness.
She is founder of the technology consulting firm, The Jemison Group, Inc. that integrates the critical impact of socio-cultural issues when designing and implementing technologies, such as their projects on using satellite technology for health care delivery in West Africa and solar dish Stirling engines for electricity generation in developing countries. Prior to joining NASA, Jemison was the Area Peace Corps Medical Officer for Sierra Leone and Liberia in West Africa for two and a half years overseeing the healthcare system for Peace Corps (and State Department in Sierra Leone). Jemison earned a B.S. degree in chemical engineering and the fulfilled the requirements for an A.B. degree in African and Afro-American Studies at Stanford University and her doctorate in medicine from Cornell University.
For more information on the 2013 Annual WTS Conference, visit http://www.WTSinternational.org or contact Margaret Mullins, WTS Managing Director, at 202-955-5085.
***
WTS International and WTS Foundation, headquartered in Washington, DC, seeks to attract, retain, and advance women in transportation. As the industry's premier multi-modal association, WTS boasts a network of approximately 6,000 transportation professionals—women and men from across the United States, Canada, and Great Britain--and it's growing globally. Every transportation mode is represented, as is every service within the industry. From federal leaders to engineers and planners, the WTS membership base represents nearly 1,500 companies and 400 agencies in more than 90 cities. WTS Foundation has provided more than $1,000,000 in scholarships to deserving women throughout the transportation industry, supporting the next generation of transportation professionals and advancing the principles of WTS. More information can be found at http://www.WTSinternational.org