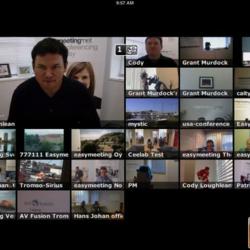 As a rapidly growing company we have held true to our strategy of focusing on the user experience.
Mystic, CT (PRWEB) January 17, 2013
Easymeeting.net, headquartered in Tromsø, Norway and with its North American operations based in Mystic, Connecticut, reported a 199% increase in the sales of its easyConference video conferencing service in 2012 from 2011.
Easymeeting.net also reported net gains of 169% in the number of video conferencing systems registered in the easymeeting search engine directory now topping 7330 and a 37% increase in the number of easymeeting.net enabled video conferencing hardware end points that utilize the easyNumbering services.
"As a rapidly growing company we have held true to our strategy of focusing on the user experience and with this strategy we are realizing the rewards with record growth," said Evan J. Andriopoulos, CEO of easymeeting.net. "Nothing makes me more happy then when I see new users of our services whether free or paid joining our growing list of users that appreciate our great services and focus on delivering cutting edge easy to use services."
Easymeeting.net also reported a 30% year to year increase in the volume of hardware based easymeeting.net calls on the easymeeting.net platform, showing adoption of the services are not only new to video conferencing customers, but existing legacy system users.
Easymeeting.net has developed a cloud based video conferencing service that allows seamless collaboration with tablets, smart phones, laptops and traditional video conferencing systems that is focused with the user at the forefront. Easymeeting.net uses a numbering plan that mimics the age old telephone numbering systems. "We have used telephone numbers for over one hundred years then all of a sudden we are to learn how to use IP Addresses to communicate. Is it not easier to remember a six digit number eg. easy 555555 or 211.122.11.129?" said Andriopoulos.
Easymeeting.net has also designed their very own search engine directory that has thousands of video conferencing systems registered from across the globe allowing users to register their video conferencing system, list for rent and or locate other systems.
Supporting the user experience strategy easymeeting.net has a team of global easyExperts located in Europe and North America that are available to help set up ad-hoc meetings, provide technical support as well as give product and services demonstrations all with the user experience in mind.
Easymeeting.net attributes their strong performance to a maturing market and channel partner network as well as their un-dying focus on delivering a great user experience. Easymeeting.net is striving to be the "dial tone" of not only the video conferencing industry but the visual communications industry.
Easymeeting.net also has offices in Oslo, Norway , Stockholm, Sweden and Santa Cruz, CA. with partners across EMEA, The Americas and APAC. For more information please visit http://www.easymeeting.net or their facebook page at http:// http://www.facebook.com/easymeeting and twitter at @easymeetingNET