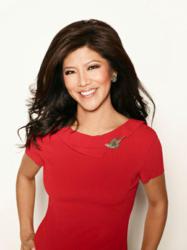 RIVERDALE, N.Y., (PRWEB) January 15, 2013
Television personality Julie Chen, host of CBS' "The Talk" and "Big Brother," will receive the 2013 De La Salle medal at Manhattan College's annual fundraising dinner on Wednesday, Jan. 23, 2013. The event will be held at the Waldorf Astoria in New York City.
As co-host and moderator of "The Talk," network television's fastest growing daytime talk show, Chen works alongside Sara Gilbert, Sharon Osbourne, Sheryl Underwood and Aisha Tyler. The show features a panel of well-known news and entertainment personalities discussing current events, pop culture, contemporary issues, family, celebrity and the trending topics of the day.
Before working on her most recent assignments, Chen served as special contributing anchor (2010-2011) and co-anchor (2002-2010) of "The Early Show," CBS News' weekday morning broadcast. She also served as news anchor of "The Early Show" and anchor of the "CBS Morning News." Prior to this, Chen was a reporter and anchor for WCBS-TV (1997-1999).
During Chen's time on "The Early Show," she covered several major news stories, including the war in Iraq and conflict in Kuwait and Qatar. Additionally, she has interviewed many important and influential figures, such as former New York City Mayor Rudolph Giuliani '65, Queen Rania of Jordan and former Defense Secretary William Cohen, and prominent celebrities, such as Tom Hanks, Ellen DeGeneres, Tom Cruise, Ben Affleck, Angelina Jolie, Chris Rock and Jennifer Lopez.
Chen currently lives in New York and Los Angeles with her husband, Leslie Moonves.
The De La Salle Medal Dinner honors people and corporations that embody the principles of excellence, leadership and service to society. Past honorees include Giuliani; Anne Mulcahy, chairman, Xerox Corporation; Sy Sternberg, chairman and chief executive officer, New York Life Insurance Company; Eugene McGrath '63, former chairman and chief executive officer, Con Edison; and Bill Klesse, chairman, chief executive officer and president, Valero Energy Corporation.
As Manhattan College's top fundraising event, proceeds from the De La Salle Medal Dinner are applied to a variety of needs on campus including student scholarships and financial aid. The black-tie event begins with a cocktail reception at 6:30 p.m., followed by dinner at 7:30 p.m. For more information about the dinner, please call Tiana Sloan, director of corporate and foundation relations, at (718) 862-7431 or email tiana.sloan(at)manhattan(dot)edu.
Media interested in attending, please contact Liz Connolly Bauman, director of communications, by phone at (718) 862-7232 or email public_relations(at)manhattan(dot)edu.
About Manhattan College:
Manhattan College is located at West 242nd Street near Broadway in the Riverdale section of the Bronx, one mile from the Westchester County line and accessible by MTA subway line No. 1. For directions to the campus, visit http://www.manhattan.edu.
Founded in 1853, Manhattan College is an independent, Lasallian Catholic, coeducational institution of higher learning offering more than 40 major programs of undergraduate study in the areas of arts, business, education and health, engineering and science, along with continuing and professional studies, and a graduate division. For more information about Manhattan College, visit http://www.manhattan.edu.