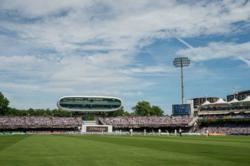 We are honoured to be made an official cricket hospitality partner of MCC, at Lord's, the Home of Cricket – and we look forward to working together for many years to come
(PRWEB UK) 17 January 2013
Marylebone Cricket Club (MCC) has confirmed the appointment of the National Sporting Club as an official cricket hospitality sales agent at Lord's for 2013 and 2014.
Following the announcement last year that MCC has now taken overall control of the hospitality offering at the world famous cricket ground, due to the anticipated high demand for the forthcoming seasons – which includes the 2nd Investec Ashes Test Match – the Club has recognised the need to appoint official agents to support the onsite team in selling selected cricket hospitality packages.
Jon Robinson, MCC Assistant Secretary (Marketing & Catering) said: "There's no bigger year for an English cricket ground than an Ashes year, and in 2013 we will be looking to make a flying start with our in-house hospitality offering. We are delighted to be working with an outstanding institution such as National Sporting Club to deliver the kind of excellent customer experience that our clients rightly expect. Lord's is the Ground every cricketer wants to play at, and we want to ensure it is also the place every customer wants to bring their guests for the perfect day out."
Lee Gregory, CEO of the National Sporting Club said: "We are honoured to be made an official cricket hospitality partner of MCC, at Lord's, the Home of Cricket – and we look forward to working together for many years to come."
The National Sporting Club, formed in 1891 has a history of entertaining sporting greats at its famous banquets before the company added corporate hospitality at sporting events to its portfolio over 25 years ago. The National Sporting Club offers an extensive range of first class sports corporate hospitality to corporates and individuals.
Cricket hospitality packages are available for England v. New Zealand - 1st Investec Test Match and 1st NatWest ODI and England v. Australia - 2nd Investec Test Match.
For more information about The National Sporting Club's cricket corporate hospitality packages, please visit: http://www.thenationalsportingclub.co.uk