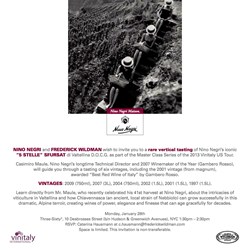 Most acclaimed Nebbiolo from Valterllina:
Exceptional Vertical Tasting of Nino Negri
Verona, Italy (PRWEB) January 15, 2013
On January 28th, the Ambassador of Italian Wines, Vinitaly International will feature the first ever vertical tasting of acclaimed wine producer Nino Negri to industry professionals at New York's ThreeSixty. The Valtellina (Lombardy) based winery will offer an exceptional guided tasting with different vintages of its Nebbiolo 5 Stelle Sfursat di Valtellina DOCG emphasising the differences between various years. With its modern company structure and 38 hectares of vineyards situated in the most prestigious sub-zones – Sassella, Grumello, Inferno, Fracia – Nino Negri is synonymous worldwide with Valtellina wines, today.
Nino Negri and Frederick Wildman Wine Imports are thus inviting industry professionals to register for the exceptional tasting, which is conducted by oenologist Casimiro Maule on Monday, January 28th at 1:30pm-2:30pm RSVP: c(dot)hausmann(at)frederickwildman(dot)com The following vintages will be featured: 2009 (750ml), 2007 (3L), 2004 (750ml), 2002 (1.5L), 2001 (1.5L), 1997 (1.5L).
Mr. Maule, Nino Negri's longtime Technical Director and Gambero Rosso's 2007 Winemaker of the Year, was instrumental in the success of the historic winery as he spearheaded more than 41 harvests and managed together with its dedicated team to constantly improve the production of the chiavennasca grapes, the noble nebbiolo variety.
The to GIV (Gruppo Italino Vini) belonging winery, has undergone grand restructuring as major investments lead to 11 of the estate's 38 hectares of vineyards being replanted with new clonal selections of Nebbiolo according to new contour planting systems.
The 100-year history combines tradition with technology as Sfursat di Valltellina is made from a selection of the best grapes of only the best years: 100% Nebbiolo (Chiavennasca) grapes, handpicked in the most acclaimed parcels of Valtellina Superiore. After natural drying for 3 months they are vinified on their skins, with long maceration, ageing 18 months in new French oak barriques only and being followed by 6 month ageing in bottles. The cellar houses 1500 new barriques of French and American oak and the big old barrels have been substituted with some 100 smaller barrels, permitting a greater wine selection.
Valtellina valley is sheltered from the cold northern winds by the Rhaetian Alps and divided into four sub-zones that give their names to the different types of wine produced here: Grumello, Sassella, Inferno and Fracia. The territory has two DOCGs, the more widespread Valtellina Superiore and the Sforzato di Valtellina.
Vinitaly International in collaboration with Slow Wine offers industry professionals on Monday January 28th in New York and Wednesday 30th in Miami respectively a rich program to bring the latest fine Italian wine trends to the USA. The days will also include guided master class tastings hosted by US wine importer Palm Bay, featuring; Consorzio Tutela Vini Soave, which will present an array of great white wines in line with the concept of Vulcania, the international forum on white wines from volcanic soils. Vulcania tackles themes pertaining to geology and education with the participation of eminent lecturers, journalists and communicators aimed at promoting these special wines.
To register for the event: http://www.vinitalytour.com/formusa2013_eng.php
Nino Negri is also part of the premier event of Vinitaly 2013, OperaWine, Finest Italian Wines: 100 Great Producers on April 6th. For more please visit http://www.operawine.it.
About:
Veronafiere is the leading organizer of trade shows in Italy including Vinitaly (http://www.vinitaly.com), the largest wine event in the world. In 2012, over 4200 exhibitors showcased their wines to 140,000+ visitors (35% from outside of Italy representing over 120 countries). The 47th Edition of Vinitaly will take place on 7th-10th April 2013 in Verona, Italy with its premier event OperaWine - Finest Italian Wines: 100 Great Producers being held in collaboration with Wine Spectator on April 6th in the heat of Verona. http://www.operawine.it Veronafiere created the Vinitaly International http://www.vinitalytour.com in 1998 to develop a global platform for the promotion of companies in the Italian wine and food sectors.