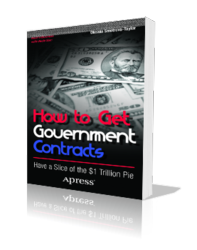 This book gives an edge to companies who want to work with the government.
New York, NY (PRWEB) January 15, 2013
Ever wonder how a company enters the increasingly competitive market of securing government contracts with the world's largest buyer?
How to Get Government Contracts: Have a Slice of the $1 Trillion Pie by Olessia Smotrova-Taylor demystifies the process of getting on the fast track and selling to the government. The book explains how a company can get their first and subsequent contacts, and turn its enterprise into a multi-million-dollar government contractor, all within a couple of years.
The book reveals what strategies top government contractors use to achieve a steady stream of work, and the latest best practices that their business development professionals use to succeed.
Most importantly, the book shows, step-by-step, how to get started. Included is an explanation of the types of federal market opportunities, and the best information sources to find out about these and prepare in advance. Also presented are the tools to conduct "capture" – pre-proposal preparation – and advice on how to achieve a disciplined, process-based approach to contract-winning proposal development and execution.
How to Get Government Contracts: Have a Slice of the $1 Trillion Pie gives an edge to companies who want to work with the government by explaining federal acquisition rules, how to get information about potential contracts before they are advertised, and how to profit from set asides for businesses owned by women, veterans, and minorities.
To learn more about How to Get Government Contracts: Have a Slice of the $1 Trillion Pie, visit http://www.apress.com/9781430244974
*ISBN13: 978-1-4302-4497-4

*User Level: Beginner to Advanced

Publication Date: December 5, 2012
Available eBook Formats: EPUB, MOBI, PDF
*Print Book Price: $29.99
*eBook Price: $20.99
About the Author
Olessia Smotrova-Taylor, AF.APMP, president and CEO of OST Global Solutions, Inc., has 18 years of experience in business development, communications, and marketing, including 12 years in contract capture and proposal management. She led winning bids for four out of five top government contractors, winning more than $19 billion over the course of her career. She consults and teaches others how to get contracts with the government and large commercial organizations, as well as developing processes, tools, and Bid & Proposal Academy courses that enhance business developers' abilities to win business. She serves as the President of the Association of Proposal Management Professionals (APMP) National Capital Area Chapter. She is recognized as an APMP Fellow for her contributions to the field of capture and proposals – the highest honor in the business development profession. Prior to supporting a number of Fortune 500 companies and small businesses as a proposal consultant and growing her own company, she worked as a business developer for Raytheon and Lockheed Martin, and wrote for the Financial Times of London.
About Apress Media
Apress Media is a technical and business publisher devoted to meeting the needs of IT professionals, software developers, programmers, and business leaders with more than 1,000 books in print and electronic formats. Apress provides high-quality, no-fluff content that helps serious technology professionals build a comprehensive pathway to career success. Since 2007, Apress has been part of Springer Science+Business Media, one of the world's leading scientific, technical, and medical publishing houses, enabling global distribution of Apress publications.
For more information about the innovative approach Apress takes to publishing, please visit http://www.apress.com.