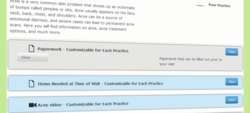 Our partnership with via680 gives our practice advanced, yet easily accessible information technology. It's a 'win-win' for patients and physicians.
Youngstown, Ohio (PRWEB) January 16, 2013
Via680, a communication software firm and portfolio company of the Youngstown Business Incubator, and MDsConnect.net, an online community and information resource for physicians, announced the launch of a new digital solution designed to enhance communication between physicians and their patients and to increase patient compliance.
Using Ving, an interactive video email technology provided by via680, MDsConnect.net now offers a new tool for its members called "MD Patient Support." This communication tool enables doctors to send educational materials such as videos, documents, and questionnaires in customized email messages to patients prior to their office visits.
Adopting this interactive communication solution offers physicians numerous benefits, including more efficient visits, better patient compliance, fewer follow-up calls, and accurate paperless documentation of information sent to patients. "MD Patient Support" also allows the office to assess the patients' levels of understanding of accessed materials while maintaining doctor/patient confidentiality via Ving's HIPAA compliant privacy feature.
"We anticipate that this new feature will increase patient compliance and understanding," said Dr. Helen Torok of Trillium Creek Dermatology in Medina, Ohio. "Our partnership with via680 gives our practice advanced, yet easily accessible information technology. It's a 'win-win' for patients and physicians."
Helping patients become more educated and better prepared both before and after their appointments is one of the primary goals of "MD Patient Support." For example, if patients forget the information provided during their appointment they can access the video or document they received and refresh their memories on the doctor's instructions.
"MDsConnect.net is an excellent fit when it comes to a partner for via680, says Tony DeAscentis, CEO of via680. "Our technology, Ving, supports and enhances how physicians are currently communicating with their patients and helps to eliminate confusion and misunderstandings while keeping everything confidential."
About via680
via680's mission is to improve the way people use digital media to communicate. Its software application, Ving, is a web-hosted service that empowers users to create multi-media messages with videos, documents, audio files, pictures, and surveys. Secure messages are sent through email, social media, and mobile messaging. Ving automatically confirms a message has been received, read, viewed, heard, and understood with complete dashboard reporting. For more information, please visit the website at via680.com.
About MDsConnect
MDsConnect.net was developed as a free service exclusive to physicians. Its mission is to help physicians stay connected with each other and provide valuable resources to enhance their careers through an educational, interactive, and easy-to-use website.