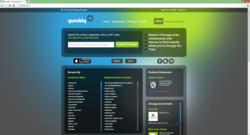 Chicago, IL (PRWEB) January 17, 2013
Have a craving? Introducing Yumbly.com and the Yumbly App for iOS – the new, smart foodie friend for savvy diners!
Yumbly is simply the best way to find restaurants in the Chicago area, because it lets savvy diners find exactly what they want to eat. With over 3,000 Chicago-area restaurants listed in both the city and surrounding suburbs, Yumbly lets diners explore dining options quickly and easily. Browse by cuisine or neighborhood, or, best of all, simply enter a craving into the Yumbly Search box and get a list of restaurants with menu items that match! It's like having a personal dining consultant!
Register for free on Yumbly.com to favorite and rate restaurants, write reviews and share favorites with friends (and see where they like to eat, too!).
Restaurants on Yumbly can post upcoming events, food & restaurant photos, Chef bios, news and more on their pages, so Yumbly offers more information about restaurants than anywhere else.
And the new Yumbly app for iPhone, iPad and iPod touch gives diners on the go access to all of their favorites, and finds restaurants based on location, too. Just enter a search in the Yumbly Search box, and Yumbly will find the nearest restaurants that match. View results in a list or on the map, and start eating! Of course the Yumbly app is free and is available now for download on the App Store!
To celebrate the official launch, Yumbly is giving away $1,000 in Chicago-area restaurant gift certificates to one lucky winner! Entering the contest is simple: Visitors register on Yumbly.com, then log In and Favorite at least one restaurant by February 15th, 2013. For complete contest details, see http://yumbly.com/win1000
Links:
Yumbly.com: http://yumbly.com
Yumbly App for iOS: https://itunes.apple.com/us/app/yumbly/id557203837
Yumbly Win $1,000 Contest details: http://yumbly.com/win1000
Contact:
To learn more about Yumbly and the Yumbly App, please contact:
Lou Zucaro, CEO of Genusus (the creators of Yumbly) at 847-884-7787