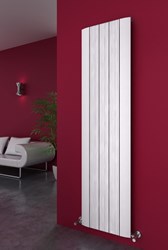 Aluminium radiators and towel rails are considered the most eco-friendly option when it comes to radiating heat for any room.
(PRWEB UK) 24 January 2013
With stylish and modern radiators becoming a more common occurrence within new households there are hundreds of ranges to choose from without even choosing a size or finish. Bella Bathrooms have an expansive range of radiators for all areas of the house; from stainless steel radiators which can be used anywhere to radiators with built in towel rails or heated towel rails themselves more suited to the bathroom environment.
The new Aluminium towel rails and radiators at Bella Bathrooms combined modern styling with high quality aluminium to provide excellent value from money. With 5 new ranges, a variety of finishes and styles and the choice between central heating and electric totalling over 100 new products, these radiators can be used to make any household unique.
To help making choosing from these radiators a whole lot easier, Bella Bathrooms have introduced a dedicated category just for these radiators along with a variety of filters meaning the results and be cut down if a certain size, style or heat output is required, making the entire shopping process entirely stress-free and easy.
The only problem is deciding between the more common Stainless Steel Radiator and the new Aluminium Radiators. Aluminium is praised for its heat conducting properties which makes it perfect material for household radiators and proves useful in large bathrooms, heating the less commonly used areas without any extra effort. Aluminium radiators and towel rails are considered the most eco-friendly option when it comes to radiating heat for any room of the house at a rapid rate.
Whether a new radiator is going to be used to heat certain part of your house throughout the day or just as a piece of aesthetic styling, look no further than the aluminium radiators and towel rails.
About Bella Bathrooms:
Bella Bathrooms is one of the finest UK online bathroom retailers based in the North-East of England and offer continuous great deals of bathroom refurbishments, shower, towel rail and radiator updates, stylish bathroom furniture and various other key elements at prices that are guaranteed to be unsurpassable. The latest updates continuously made have further improved the overall quality and they have set a high standard for things to come in the future. The company also own a number of other e-commerce sites with their latest addition being iBathroomSuites offering most bathroom suites with a next day delivery service.
Bella Bathrooms
Tel: 0844 8117 017
Available to contact from 9am – 5pm