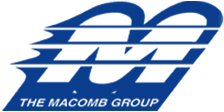 Sterling Heights, MI (PRWEB) January 16, 2013
The Macomb Group, a pipe, valve and fitting (PVF) distributor, added IPEX thermoplastic piping systems to their product offerings for Michigan customers.
This line of process piping systems from IPEX includes flanges and strainers made from PVC, CPVC, polypropylene and ABS. PVFs made of these materials are also part of the new product line. These IPEX products have been designed to hold up against temperature and pressure. They also meet the specific size requirements necessary for industrial and chemical processing applications.
IPEX thermoplastic piping systems offer numerous advantages and can be used for many applications including chemical systems, such are chlorine or caustic, acid waste, compressed air, double containment, high purity, potable water and wastewater. These parts have a long life, are easy to cut and join and are also simple to handle and store. They are lightweight, highly resistant to chemicals and have a low thermal conductivity. This line of products from IPEX also offers superior underground performance and are low-cost compared to common exotic metal systems.
While these IPEX products offered by The Macomb Group are only available to Michigan customers, their other PVF products are distributed to Ohio and Tennessee. The company is a top ten national distributor in their product category and serves a variety of markets including automotive, food and beverage, general manufacturing, hospitals, schools and universities, pharmaceuticals, utilities, power plants, steel, pulp and paper and refineries. Currently located at 6600 E. 15 Mile Rd. in Sterling Heights, Mich., more information about The Macomb Group can be found by visiting their website.
The company's website design was created and executed by Market Pipeline, another Michigan-based company. Market Pipeline is a web design, web marketing and SEO company located in Portage, Mich. Their team is composed of programmers, graphic designers and copywriters that work together to create easy-to-navigate, concisely written and creatively designed websites. In addition, the Market Pipeline team carries out web marketing campaigns that help companies rank better on search engines.