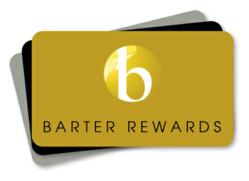 Orlando, FL (PRWEB) January 15, 2013
Hundreds of businesses coast to coast are uniting together in today's challenging economy and finding the opportunity to generate sales revenues and cash referrals through Barter Rewards trade exchange platform. Launched last year in Orlando, FL, Barter Rewards has grown tremendously to now providing a valuable platform for businesses to generate revenues in counties all throughout the state of Florida and country with expansion into Tennessee, South Carolina, California and Nevada markets coming this year. With the Barter Rewards trade network, businesses trade to purchase what they need or want and pay for those items with the sales of their own products or services using IRS approved trade dollars as community currency. Barter Reward provides consumers with the means to buy or sell goods, services and real estate using less cash in every purchase because $1 Barter Rewards dollar equals $1 U.S. dollar.
"Bartering is an underground highway around today's economy to increase sales revenues into new business, which increases profits and cash flow," says Tait Carson, Founder, CEO and Franchisor of Barter Rewards. "These additional revenues are typically used for items that businesses are paying cash for. Barter Rewards allows you to buy products and services from participating members using trade dollars."
Barter Rewards is currently partnering with winning companies of all sizes and industries with a targeted focus on travel and tourism, airlines, advertising, contractors, doctors, hotels, cruise lines, printing, media, car rentals, restaurants, retail and a wide array of service providers. Barter Rewards uses state-of-the-art technology to track all barter sales and purchases with an easy-to-read itemized monthly statement. Plus, the member website is available for transaction processing anytime clients want.
"The two primary ways to increase cash flow are growing sales and reducing costs," says Carson, the creator of revolutionary barter software also launching this year. "Barter Rewards does both. It's a no-brainer win-win for everyone. This is the oldest way of doing business. Traditional banking has failed us ninety-eight times repeatedly in history. Bartering goods and services has never failed."
Business owners and professionals across the world are taking a serious look at barter as a way to build their bottom line, and the rapid growth of the barter industry can only mean that business owners like what today's barter industry has to offer. For more information about the benefits of Barter Rewards and how the program works, visit http://www.barterrewards.com. To join Barter Rewards in your area, contact the following representatives:
(FL) Orange, Osceola, Seminole Counties: Tait Carson, tcarson(at)barterrewards(dot)com
(FL) Pinellas County: Jennifer Tennant, jtennant(at)barterrewards(dot)com
(FL) Duval County: Jason Campbell, jcampbell(at)barterrewards(dot)com
(TN) Knoxville, Gatlinburg-Pigeon Forge: Craig Carson, ccarson(at)barterrewards(dot)com
(TN) Nashville: Andy Gastley, agastley(at)barterrewards(dot)com
(TN) Chattanooga: Ross Porter, rporter(at)barterrewards(dot)com
Coming Soon… Miami-Dade County (FL), Greenville, Charleston, Myrtle Beach, Hilton Head (SC), Los Angeles, San Diego, San Francisco (CA), Las Vegas (NV): Visit http://www.barterrewards.com for updated contacts.
MEDIA CONTACT: Ilene Lieber, 321-277-7812, passionprilene(at)yahoo(dot)com