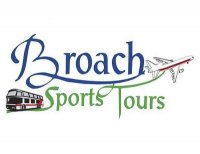 The chance to go to the Masters and the NCAA championship game all in the same day is something that cannot be duplicated.
Charlotte, N.C. (PRWEB) January 17, 2013
Broach Sports Tours is offering several unique travel packages to the 2013 Final Four, president Tom Broach has announced.
Fans can select from three-day packages that include both the semifinals and finals or a one-day package that combines the championship game plus an afternoon at the Masters. BST also has tickets to the games for those needing tickets only.
The Final Four is scheduled Saturday, April 6-Monday, April 8 at the Georgia Dome in Atlanta.
"Atlanta has proven to be a great host city in the past and there's no question the atmosphere will be great at this year's Final Four," Broach said. "I've always felt that the Saturday of the Final Four is the best day of the year in college basketball.
"And the fact that it's in Atlanta gives sports fans an opportunity that they could never have in any other city. The chance to go to the Masters and the NCAA championship game all in the same day is something that cannot be duplicated."
BST's unique NCAA Championship Game and Masters motorcoach combo package allows sports fans to mark two events off their sports bucket list in one day. The day begins in Charlotte and goes straight to Augusta for six hours at Augusta National and Monday's practice round at the Masters. Then, the Broach Coach motorcoach heads on to Atlanta, arriving at the Georgia Dome well in advance of the NCAA championship tipoff on Monday night. The motorcoach would then return to Charlotte on Tuesday, April 9.
The package includes tickets to both the Masters practice round and the championship game, deluxe motorcoach transportation, hotel accommodations at the Hampton Inn in Atlanta, continental breakfast and a Broach Sports Tours host, with the ability to upgrade seat locations for the basketball game. That package starts at $895 per person based on double occupancy.
BST's Final Four motorcoach package takes in Saturday's semifinals, Sunday's Division II and Division III championship games, and Monday's title game. That package includes game tickets, three nights hotel accommodations, deluxe motorcoach transportation from Charlotte, continental breakfast and Broach Sports Tours host, with prices starting at $1375 per person based on double occupancy.
BST also offers a "self travel" package for fans wishing to meet up with the tour group in Atlanta, and also offers tickets for all games or specific games.
Broach Sports Tours, located in Charlotte, has been a leader in the sports and group travel industry since 1995. It specializes in Major League Baseball tours, tennis tours and golf travel packages which also include the Masters, U.S. Open and Ryder Cup, and NASCAR travel packages. It prides itself in repeat business.
For more information, contact Melanie Hicks at 1-800-849-6345 or visit http://www.broachsportstours.com.