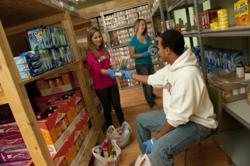 Every year at Westminster we make this holiday a day on, not a day off, through community service. 'The MLK Day of Service' has become a core program to exemplify the College's commitment to service.
Fulton, MO (PRWEB) January 17, 2013
The commemoration of the Dr. Martin Luther King, Jr. holiday on Monday, Jan. 21, will be a day away from work and school for most Americans so they can reflect on the significance of Dr. King's achievements on behalf of civil rights in this country.
However, approximately 300 students at Westminster College in Fulton, MO will devote the day assembling planned meals to prevent area schoolchildren from going without food and launch a semester long program to educate on the plight of displaced persons.
"Every year at Westminster we make this holiday a day on, not a day off, through community service," says Hannah Minchow-Proffitt, Westminster Fellow for Community Engagement & Service Learning, who is coordinating the event. "'The MLK Day of Service' has become a core program to exemplify the College's commitment to service."
Westminster students will spend their day filling backpacks with nutritious, shelf-stable food such as peanut butter crackers, granola bars and pop-top canned fruits and soup as a part of the Buddy Pack program of Central and Northeast Missouri Food Bank.
Last year, over 300 students filled over 1,000 backpacks, which was estimated to impact 4,000 lives.
"While our elementary school children who are at risk of going hungry receive the nutrition they need during the week through the free and reduced-priced meals offered at school, many of them do not have that kind of nutrition available on weekends," says Dr. Bob Hansen, Executive Director of the Emerson Center for Leadership & Service at Westminster, who leads the planning committee for this event. "Every week 288 children from our local elementary schools receive food from the Buddy Pack program to take home for the weekend."
Participation in "The MLK Day of Service" at Westminster has been made possible by a grant from Campus Compact, a national coalition of almost 1,200 college and university presidents committed to fulfilling the civic purposes of higher education.
Collaborative partners with Westminster on the project are The Food Bank of Central and Northeast Missouri and Callaway County United Way.
In past years on the holiday, Westminster has sponsored letter writing campaigns to those serving in the military and children at a local hospital along with an educational activity fair for children.
Westminster College completes more than 11,000 hours of service annually and 84 percent of the students participate in some form of community service.
The semester-long program "Displaced But Not Forgotten" at Westminster will be launched on the Dr. King holiday as well. This program will focus on the plight of refugees, trafficked/enslaved, orphaned, homeless, immigrants, economically disempowered and those displaced by natural disasters.
"This approach allows us to be inclusive of many societal needs but it narrows our focus in order to create meaningful experiences with and for students," says Dr. Hansen. "By launching the program on Dr. King's birthday, we are intentionally reminding the campus community of the connection between Dr. King's legacy and the mission of Westminster. Although Dr. King never visited Fulton, we recognize him as an inspirational leader that exemplifies commitment to human dignity, basic human rights and community building."
The Westminster Office of Community Engagement and Service will work closely with the Office of Intercultural Engagement and the Office of International Student Services on this program.
"At Westminster College, we are committed to creating a campus where there are no bystanders," says Minchow-Proffitt. "We challenge our students, faculty and staff to not turn away from complicated and seemingly overwhelming injustices. Displaced persons often go unnoticed and are easily ignored; however, this semester-long program will raise our campus's awareness and is a call to action."
Dr. Martin Luther King, Jr. Day is a United States federal holiday observed on the third Monday of January every year. The holiday was signed into law by President Ronald Reagan in 1983 and first observed in 1986. However, it was not officially observed by all 50 states until 2000.
Founded in 1851, Westminster College is one of the top liberal arts colleges in America, according to all major educational ranking firms including U.S.News & World Report, Forbes magazine, The Princeton Review and Washington Monthly. National high school counselors recognize Westminster as one of the Top Two Liberal Arts Colleges in Missouri to receive the best education. This selective college for men and women operates on two campuses, one an 86-acre residential campus in Fulton, MO, and a second Southwestern urban campus in the vibrant downtown of Mesa, AZ. Westminster is a challenging academic environment where students are educated to lead and inspired to achieve. Ninety-five percent of Westminster graduates start their first job or enroll in graduate or professional schools within six months of graduation.
To learn more about Westminster College, people can visit the College web site at http://www.westminster-mo.edu.