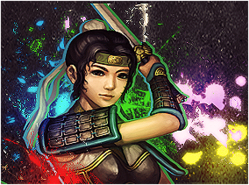 Join a clan and train your battle skills, or found your own and defeat rival groups, the choice is up to the player.
Schwalbach, Germany (PRWEB UK) 21 January 2013
eFusion GmbH, an European distributor of digital entertainment on mobile platforms, announced today that Murim Wars, a massively multiplayer online game developed by Korean studio 4Plat Inc., will be finally launched in Europe for Android smartphone and iPhone on the 21st of January.
Murim Wars is keeping up with this famous and popular game genre, which is Massively Multiplayer Online Game. It combines all the strengths of the new mobile era and brings players a new innovative fighting system. Murim Wars is part of a series of games with full network support on mobile platforms, that eFusion GmbH will publish in the near future.
About eFusion GmbH
eFusion GmbH, headquartered in Frankfurt, Germany, was founded in 2002 and has been growing steadily ever since. eFusion GmbH is a distributor of digital entertainment on mobile platforms. The company's mission is to deliver exceptional, original and licensed entertainment contents on a wide variety of devices to all consumers around the world. The company distributes a portfolio of product that boasts some of the biggest names in mobile entertainment as well as original properties with more than 3000 downloadable high-quality games and over 500 applications for Android and Java with new items being added on a daily basis.
Contact:
eFusion GmbH
Wiesenweg 18
D-65824 Schwalbach / Ts.
Phone : +49 (0) 6196 58688 50
Fax: +49 (0) 6196 58688 99
Mail to: mkt(at)efusionmobile(dot)com
Website: http://www.efusionmobile.com
CEO: Yoonseok Yang , Dennis Hilgersom
Court Frankfurt am Main HRB 80577
VAT ID: DE 224 279 505
About 4Plat
4PLAT Inc. is a Korean company, headquartered in Seoul. The company is developing cross platform games for Mobile Phone, Tablet, PC and TV. Together with their partner, eFusion GmbH, they want to conquer the European games market.

Massively Multiplayer Online Role Playing Game for Android
Fight other players LIVE
FREE and Paid updates with new missions, weapons, fighting techniques and much more
Collect rare and powerful loot items
Innovative Clan and Guild system
Bring your friends into your clan to make you stronger
Chat with other players
Live customer support
Community center on web site and forum
Download, now from: