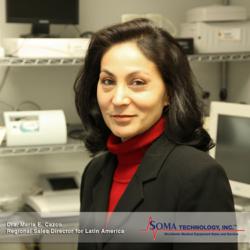 It is amazing to be able to come back to my hometown not only to visit, but also to bring smiles to people that need it the most because of the contribution that Soma Technology is able to make.
Bloomfield, CT (PRWEB) January 17, 2013
Soma Technology, Inc. is an American company based in Bloomfield, CT, with more than twenty years experience supplying medical equipment to health-care professionals around the globe. Now, the company's efforts are extending beyond the sale of new and refurbished medical equipment with SOMAlegria, an initiative to help communities in Latin American countries that may lack the resources to purchase much-needed medical equipment. This initiative, lead by Soma's Regional Sales Director for Latin America, Dr. Maria E. Cazco, has set a goal to provide donated medical equipment to deserving health-care providers in each Latin American country that the company visits.
Recently, Dr. Cazco travelled to Riobamba City in Ecuador, where she grew up. She was invited to attend the inauguration of Fundacion Dulce Refugio Paul Martel, a foundation formed by American entrepreneur Paul Martel, whose mission is to bring free health care to communities in Latin America. Mr. Martel's team of diligent people, along with Soma's gift, are bringing free health care to the people of Riobamba.
Soma Technology, Inc., maintains its philosophy of donating at least one piece of equipment to every country it visits. The countries the company has made donations to so far include Chile, Mexico, Panama and Ecuador. The last donation was a surgical microscope to a higher education institution, Politecnica de el Chimborazo, in Ecuador. This donation reinforced Soma Technology's commitment to the community and furthered its support of higher education.
Dr. Maria Cazco and Soma Technology, Inc., are committed to continue contributing to Latin American countries where they do business to bring better health-care systems to their people. Soma believes in giving back to the community and encourages other companies to do the same.
About Soma Technology, Inc.
As a leader in the medical equipment market, Soma Technology, Inc., specializes in outfitting health-care facilities with high-quality new and refurbished medical equipment. Soma can plan and equip an entire OR suite or hospital project, or replace a single piece of equipment. Soma purchases medical equipment from hospitals throughout the United States and refurbishes it to OEM standards with its team of international biomedical engineers. This process has earned Soma a coveted membership with IAMERS, which offers membership only to the most ethical dealers, lessors, and refurbishers in the medical equipment field. In addition to refurbished equipment, Soma distributes an impressive line of new equipment from top manufacturers including GE Medical, Dräger, Zoll, Stryker, Philips, Steris, and Axia Surgical. Soma offers everything—anesthesia machines, patient monitors, defibrillators, surgical tables, surgical lights, patient monitors, electrosurgical units, scalpels, tourniquets, sterilizers, C-Arms, C-Arm tables, portable x-ray machines, ultrasounds, heart/lung machines, ventilators, EKG machines, stress test systems, EEG machines, infusion pumps, and much more. Soma Technology, Inc., has become a market leader because of its commitment to industry advancements and the highest level of customer satisfaction.