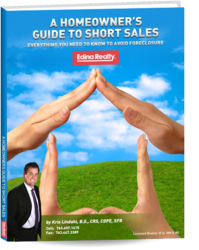 Allowing adequate time before foreclosure sets in is very important.
Blaine, MN (PRWEB) January 15, 2013
Kris Lindahl of Edina Realty held a short sale resources seminar in Minnetrista, MN yesterday morning. The seminar reached full attendance and standing-room only. Lindahl is Edina Realty's number one short sale agent. Lindahl discussed several resources that he's made available to the general public to help with the short selling process.
Among other things Lindahl highlighted the importance of time. "Time is of the essence," Lindahl said at the seminar, "Allowing adequate time before foreclosure sets in is very important." The experienced agent then followed that up with finding the right agent as one of the first important steps in the process after checking eligibility.
The Minnetrista, MN seminar was part of a larger campaign that Lindahl launched to bring information to the public that was previously know only to real estate professionals. Kris and his team of full-time Edina Realty realtors all hold the following designations: Certified Distressed Property Experts (CDPE), Short Sale & Foreclosure Resources (SFR), and Council of Residential Specialists (CRS).
Call Kris and his team at (763) 607-1415 for more information. Visit the Minnesota Short Sale Calculator website to check eligibility. Download a complimentary copy of the eBook titled "A Homeowner's Guide To Short Sales" and check out the short sale video series on YouTube.