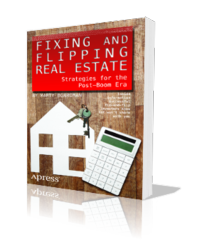 New York, NY (PRWEB) January 16, 2013
Real estate investments that involve hanging onto properties for extended periods of time are a turn-off for many entrepreneurs. But buying a run-down piece of property, fixing it up and flipping it quickly is a totally different story.
"Fixing and Flipping Real Estate: Strategies for the Post-Boom Era" by Marty Boardman provides both experienced and newbie fix-and-flip real estate investors, working either full- or part-time, with the tools they need to strategize and complete this type of real-estate investment. The book underscores that fixing and flipping houses is a business with a solid formula. Following these steps can help serious investors sell as many as 20 properties a month and pocket as much as six figures' worth of profit a year. And, with the housing market projected to bottom out at last, the time is ripe to showcase attractive real estate.
The book addresses how to find and buy suitable properties in targeted neighborhoods at a targeted price point. How to calculate rehab expenses and not under- or over-improve the properties. How to sell them with the greatest flip value in the shortest amount of time. And how to secure funding. Also included are instructions on how to buy bank-owned houses and also foreclosures at auction, and how to navigate short sales from underwater homeowners.
To learn more about "Fixing and Flipping Real Estate: Strategies for the Post-Boom Era," visit http://www.apress.com/9781430246442.
For review copies, interview or curated article requests, please contact stephaniecarino@apress.com.

ISBN13: 978-1-4302-4644-2
*240 Pages
*User Level: Beginner to Advanced
*Publication Date: December 24, 2012
*Available eBook Formats: EPUB, MOBI, PDF
*Print Book Price: $19.99
*eBook Price: $13.99
About the Author
Marty Boardman is the owner and CFO of Rising Sun Capital Group, a private real estate investment firm in Gilbert, Arizona., which fixes and flips houses in the metropolitan Phoenix area. An accredited instructor for the Arizona Department of Real Estate, he also blogs at flippingphoenixhouses.com.
About Apress Media
Apress Media is a technical and business publisher devoted to meeting the needs of IT professionals, software developers, programmers, and business leaders with more than 1,000 books in print and electronic formats. Apress provides high-quality, no-fluff content that helps serious technology professionals build a comprehensive pathway to career success. Since 2007, Apress has been part of Springer Science+Business Media, one of the world's leading scientific, technical, and medical publishing houses, enabling global distribution of Apress publications.
For more information about the innovative approach Apress takes to publishing, please visit http://www.apress.com.