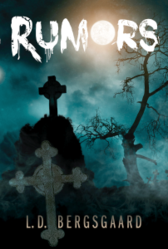 The more Doc studies the old case, the more he's convinced the wrong person has been blamed.
LAKE PARK, Minn. –
(PRWEB) January 16, 2013 -- The discovery of a young woman's body in the vineyard at St. Peter Seminary becomes more than a death investigation when the sheriff office's chief detective shows up and confirms Becky Zimmer's killer had already confessed but the body had never been found. As far as the deputy is concerned, the case is closed because the killer, her brother, has been locked up for years. This new novel centers on experienced investigator Doc Martini, who happened to be on the scene and becomes intrigued with the find.
In "Rumors," Doc follows a trail of his own, and suspicions turn to the priests who live at the seminary. The holy place may not be as peaceful as it appears because some of the priests were sent there as punishment for bad behavior. The new sheriff has reason to keep any potential scandal quiet but agrees to let Doc open an official investigation. The more Doc studies the old case, the more he's convinced the wrong person has been blamed for killing Becky. The story takes some twists and turns, such as when Becky's abused sister, Sarah, begins talking, a crooked cop's evil deeds come to light, and Doc learns one of the original suspects isn't dead after all. Can he resolve it or will evil win out once again?
Author L.D. Bergsgaard spent nearly 30 years in law enforcement before retiring, serving as a special agent with the U.S. Department of Treasury and the Minnesota Bureau of Criminal Apprehension, working with SWAT, covert operations, undercover narcotics investigations and domestic terrorist investigations. Bergsgaard volunteers with the Pima County Sheriff's Department. His series of Doc Martini books has drawn positive reviews.
----------
For additional information, please visit http://www.ldbergsgaard.net.
Rumors
L.D. Bergsgaard
Dog Ear Publishing
ISBN: 978-1-4575-1208-7 316 pages $15.99 US
Available at Ingram, Amazon.com, Barnes & Noble and fine bookstores everywhere.
About Dog Ear Publishing, LLC
Dog Ear Publishing offers completely customized self-publishing services for independent authors. We provide cost-effective, fast, and highly profitable services to publish and distribute independently published books. Our book publishing and distribution services reach worldwide. Dog Ear authors retain all rights and complete creative control throughout the entire self-publishing process. Self-publishing services are available globally at http://www.dogearpublishing.net
and from our offices in Indianapolis.
Dog Ear Publishing – self-publishing that actually makes sense.