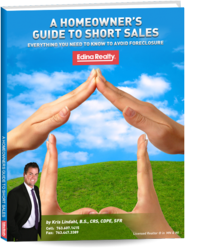 Kris wants everyone to have access to this kind of information.
Blaine, MN (PRWEB) January 15, 2013
A short sale resources meeting was held by a Kris Lindahl Team member in Mound, MN yesterday morning. The Team is led by Kris Lindahl of Edina Realty. The seminar saw full attendance. The team member covered the short selling process using a step-by-step presentation using examples from his experience. He also showed the audience how to access and use several online resources that Kris Lindahl has created.
Of those resources the short sale calculators have gotten a very strong positive reaction. The calculator websites help anyone check their short sale eligibility. "This is an important first step," the team member said, and continued, "Kris wants everyone to have access to this kind of information."
The Kris Lindahl team consists of several full-time Edina Realty realtors that hold all of the following designations: Certified Distressed Property Experts (CDPE), Short Sale & Foreclosure Resources (SFR), and Council of Residential Specialists (CRS).
Call Kris and his team at (763) 607-1415 for more information. Visit the Minnesota Short Sale Calculator website to check eligibility. Download a complimentary copy of the eBook titled "A Homeowner's Guide To Short Sales" and check out the short sale video series on YouTube.