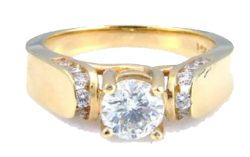 When you can buy at prices actually below cost, you can legitimately sell at true wholesale.
Racine, WI (PRWEB) January 22, 2013
A 35 year jewelry insider with restricted access to a wide array of highly specialized fine jewelry closeouts has launched TrueWholesaleJewelry.com to remove layers of markups and overhead that add dramatically to the final price of a piece of jewelry.
"When you see the video comparing prices on identical items found at well-known retailers and on our website, it's almost hard to believe that such differences could be possible," said Michael Marshall, co-owner of TrueWholesaleJewelry.com - Click Here For Price Comparison Video
Most consumers have seen jewelry store commercials pitching 75% off sales, and most folks understand jewelry markups are quite high, but to make a profit on a 75% off sale, an initial markup of least 400% above cost is required, before even figuring for expensive ads, rent, employees, insurance, utilities and more. Paying such large markups is no longer prudent or necessary.
Instead of buying jewelry from a retailer who bought it from a wholesaler who bought it from a manufacturer with several steps of markup and overhead along the way... you can now buy directly from TrueWholesaleJewelry.com who is one of a handful of specialized buyers who purchase closeouts and overstock from the major manufacturers at prices below what it actually costs them to make the items.
But don't feel bad for the manufacturers selling their closeouts at a small loss, as they figure it all into their pricing structure from day one. They know they must agree to produce minimum amounts and take back certain percentages if they want to keep the major retailers as customers. Rapidly liquidating excess inventory is a pre-calculated cost of doing business.
To the consumer the advantages are clear. Buying via internet directly from a closeout buyer removes multiple layers of markups and brick and mortar overhead. The merchandise is all brand new and first quality, but buying from the back door instead of the front can easily mean hundreds of dollars in savings... even on items that cost only a few hundred dollars.
Buying first quality fine jewelry below cost is something not 1 in 10,000 jewelers can do, not even the big boys. It's an esoteric niche that allows jewelry to be legitimately sold at wholesale prices even one piece at a time... and in financial times like these, many will likely find that an intriguing proposition, especially with Valentine's Day on its way.