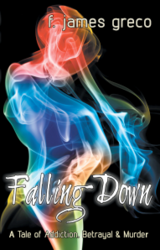 (The book) is a thrill ride, with twists and turns as Nick finds himself drowning in his own passions and the ugly underworld of the powerful and elite.
ENCINITAS, Calif. –
(PRWEB) January 17, 2013 -- Nick Lanouette is a happily married, successful journalist whose investigative prowess leads him to question the tactics of San Diego's police department as they seek the identity of a serial killer who is killing and dumping the bodies of prostitutes. In this new novel, the negative attention cast upon the department stirs the ire of Lieutenant Robert Acevedo, a man with secrets and a directive to keep attention from the group of civic "leaders" who have a propensity for wild parties hosted by beautiful women paid for their services. In his eagerness to protect these leaders, Acevedo has pinned the crimes on lowlife Ricci Penn, a drug addict with a rap sheet and no defense.
While Nick is a great journalist, his personal life is becoming more complicated. Nick's deeply in love with his wife, but he has a craving for sex that goes beyond his marriage vows, a craving that borders on addiction. This lust leads him to become entangled with beautiful stripper Holly Damkot, the common-law wife of Ricci Penn. Nick's deepening affection for Holly causes him to risk his career as well as his marriage, and when Holly is brutally murdered, Nick becomes a suspect in the very case he's been working. Can Nick exonerate himself and ensure that the real culprits are caught? Will Nick's career and marriage ever recover?
"Falling Down" is a thrill ride, with twists and turns as Nick finds himself drowning in his own passions and the ugly underworld of the powerful and elite. Nick Lanouette is a deeply flawed, utterly human character, and readers will find themselves pulling for his redemption as the story barrels to its riveting conclusion. Author F. James Greco has been a resident of southern California for more than four decades, and his personal knowledge of the city of San Diego lends a layer of authenticity to this gritty tale. This is Greco's first novel.
----------
For additional information, please visit http://www.fjamesgreco.com.
Falling Down
F. James Greco
Dog Ear Publishing
ISBN: 978-1-4575-1454-8 296 pages $15.00 US
Available at Ingram, Amazon.com, Barnes & Noble and fine bookstores everywhere.
About Dog Ear Publishing, LLC
Dog Ear Publishing offers completely customized self-publishing services for independent authors. We provide cost-effective, fast, and highly profitable services to publish and distribute independently published books. Our book publishing and distribution services reach worldwide. Dog Ear authors retain all rights and complete creative control throughout the entire self-publishing process. Self-publishing services are available globally at http://www.dogearpublishing.net and from our offices in Indianapolis.
Dog Ear Publishing – self-publishing that actually makes sense.