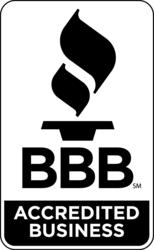 We abide by the BBB Standards of Trust.
Indianapolis, IN (PRWEB) January 31, 2013
The Indianapolis, Indiana, Better Business Bureau has named Carter's My Plumber LLC as an accredited business for 2013. Carter's My Plumber will uphold the highest ethical business standards and provide consumers with confidence knowing they will take the extra step to ensure trustworthy business practices.
Accredited BBB standards:
It is an advantage for consumers to use accredited BBB businesses for 2 important reasons: (1) Customers get added security the business has agreed to address any concerns and uphold the BBB Standards of Trust. (2) Using an accredited BBB company indirectly supports the BBB's efforts to combat scams and frauds as the fees paid by the business support the BBB.
Jamie & Lisa Carter Own Carter's My Plumber:
Jamie and Lisa Carter are the owners of Carter's My Plumber, and uphold the Standards of Trust in their business. The Carter's were awarded the BBB Torch Award in the past for their ethical standards and dedication to customer satisfaction. They are continuing the foundation of excellent customer service at Carter's My Plumber LLC. http://bit.ly/WfKsYo
Carter's are local & family owned:
Carter's My Plumber is a family owned plumbing contractor located in Greenwood and provides plumbing service to the Indianapolis Area! We are a local, family owned plumbing business with trained plumbers to meet the plumbing needs of every homeowner. We have 30 years of plumbing experience. We have clean plumbers, who are very nice and courteous. We will send someone to your home who we would want in our home. If you need a repair or replacement of any plumbing item such as a water heater, water softener, outside hose spigot, garbage disposal, clogged drain, toilet or faucet, leaky pipes, drain leaks, gas logs, gas lines, tubs, showers, tankless water heaters, camera's for drain lines, septic or well repairs, and any other problem you can call the friendly folks at Carter's My Plumber for Plumbing service, or book on-line http://www.cartersmyplumber.com