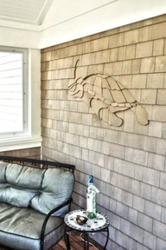 The mission at Mosaic Shingle Company is to simplify decorative shingle image designs while providing customers with a long lasting quality cedar product.
(PRWEB) January 17, 2013
Cape Cod residents are all familiar with shingle style homes that are descriptive of their local architecture. This style of home rose to popularity in the area and has spread to other coastal regions and various States, as well as being found in various other pockets of the world. Since 2010, Mosaic Shingle Company has been offering a unique way to style the outside of shingle style homes, with the use of custom shingle designs and installations. An already established custom design and installation company; Mosaic Shingle Company have branched out into the do-it-yourself market by offering their ideas in the form of kits.
Customized Shingle Design Kits
Mosaic Shingle Company offers a unique way to place a personal imprint on your shingle style home in a creative and eye-catching manner. What started as a niche service to customers has now evolved into a do-it-yourself enterprise that allows homeowners to take control of custom home décor options in an affordable way.
Anyone can use these products, and there are kits available to answer any needs from small, decorative additions, to professional comprehensive installations. The custom designs can be installed basically anywhere that shingle style architecture already exists; from the barn door to the front porch. Each shingle is engineered in such a way that it can weave into new or existing shingle walls, offering affordable home décor that is waterproof and meets with building code regulations.
What's Included in The Pack?
A ready-to-install kit can be ordered online from Mosaic Shingle Company and will be delivered for free within 5 – 10 days, anywhere on UPS ground. Each kit comes with everything required to quickly and effectively customize shingle style architecture. Step-by-step instructions and diagrams, numbered and pre-cut shingles, additional shingles, installation tape, stainless steel nails and a nail set all come complete with the design kits, so that all that is required is a hammer or nail gun. For those who don't want to do the work themselves, a local handyman will be able to manage the installation with ease.
Homeowners can choose from a range of different types of cedar wood to match their current shingles, such as:

Eastern white cedar
Western red cedar
White cedar background with a red cedar image
Pre-primed white cedar
It takes between 45 minutes and 4 hours to complete the custom shingle design installation, depending on the type of kit purchased – these range from small, to medium, large or professional design kits. All of the shingles are waterproof, can be treated appropriately for all weather conditions and leave homeowners with affordable home décor options that tie design to simplicity, and unique appeal to long-lasting quality.
Find out more about Mosaic Shingle Company and unique custom home décor kits for shingle style homes.
Physical Address:
Mosaic Shingle Company
23 Bowdoin Rd. Unit #4
Mashpee
MA 02649
Telephone: (508) 681-0720
Email: info(at)mosaicshingles(dot)com
Website: http://www.mosaicshingles.com