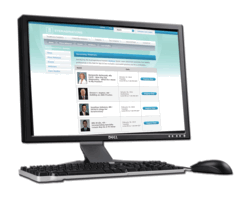 "We are delighted to be the facilitator for a unique forum that so many healthcare professionals can share and benefit from." - Jeff Peres, Eyemaginations President and CEO
Baltimore, MD (PRWEB) January 16, 2013
Leading patient education provider Eyemaginations recently reported record attendance for its 2012 Premium Webinar Series and 100% positive feedback from participants since its inception. Since January 2012, the software provider has hosted 17 webinars with over 650 registrants. A post-webinar survey found that respondents considered the topics covered to be applicable to their own challenges and planned to implement what they had learned into their own practices.
The Eyemaginations Premium Webinar Series is a free series of webinars designed to help healthcare professionals develop best business practices to differentiate their practices and drive profits. Featuring a live question and answer discussion, access to archived webinars, and compelling speakers who are subject matter experts, the new series will continue to offer several webinars a month throughout 2013 on different topics for eyecare, ENT, and other medical disciplines.
Webinars in 2012 included topics such as managing and growing an OD/MD network, advanced sinuplasty, lid margin disease, and building an AMD practice to name a few. All of the speakers are considered to be among the best in their fields and have included such names as Dr. Brian Kaplan, Otolaryngologist with Ear, Nose & Throat Associates and chairman of the ENT department at GBMC and recognized as a "Top Doc" with Baltimore Magazine; Dr. Gary Morgan with Eye Tech Eyes who was one of the first doctors in Arizona to use genetic testing to determine a patient's risk of disease progression; and Dr. Steven Sopher with Lens `n Eye who is credited with developing one of the first optometric practice management systems.
"The goal of the Premium Webinar Series is to create a peer community atmosphere where doctors can share professional development best practices with one another," stated Jeff Peres, president and CEO of Eyemaginations. "We are delighted to be the facilitator for a unique forum that so many healthcare professionals can share and benefit from."
The 2013 series of Eyemaginations Premium Webinars recently kicked off on January 15 with Dr. Marguerite McDonald, MD, FACS, who spoke on "New Dry Eye Diagnostics—What Do I Need in My Practice?" The next in the series will be held on January 30 featuring Dr. Steven F. Sopher, OD, who will be speaking on "Building an AMD Practice." Those interested can register online by visiting the Eyemaginations website at http://corporate.eyemaginations.com/general-webinars or via email at marketing(at)eyemaginations(dot)com.
About Eyemaginations
Eyemaginations, Inc. is a healthcare media company focused on solutions that support professionals, patients and corporations in communicating and understanding complex topics. The company's in-depth experience with animation, design and software has enabled Eyemaginations to create integrated systems that provide clear and concise education solutions. Eyemaginations has a portfolio of products that are focused on eyecare, ENT, audiology and facial aesthetics. Eyemaginations may be reached by phone at 1.877.321.5481, email at info@eyemaginations.com or online at http://www.eyemaginations.com.