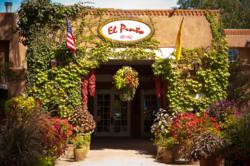 What better way to celebrate 50 years than with 50% off deals during January for our friends.
Albuquerque, New Mexico (PRWEB) January 16, 2013
Famous El Pinto Restaurant in Albuquerque New Mexico celebrates 50 years of New Mexican cuisine with exclusive 50% off deals in January. For over 50 years Famous El Pinto Restaurant is the spot for locals, tourists and celebrities to enjoy fresh made New Mexican cuisine. From hand-peeled Hatch green chile, to one-of-a-kind red chile ribs, to exceptional margaritas El Pinto is the spot to be and now customers can enjoy El Pinto dining at 50% off.
"El Pinto is still the spot that family and friends love to come together at, and we want to celebrate that tradition," said Salsa Twin John Thomas, El Pinto co-owner. Twin brother Jim Thomas continues, "What better way to celebrate 50 years than with 50% off deals for our friends." Exclusive 50% off deals during January can be found at http://www.elpinto.com/deals. A new commercial featuring the Salsa Twins, John and Jim Thomas, is being televised in Albuquerque, New Mexico announcing the 50 year tradition of famous El Pinto Restaurant in the beautiful North Valley and the 50% off deals.
Over the past 50 years El Pinto Restaurant has grown from a few tables in one room started by John and Jim Thomas' parents, to become the most famous restaurant in New Mexico. Serving the best in healthy New Mexican food from traditional recipes from grandmother Josephina Chavez-Griggs, El Pinto is the spot that locals and tourists alike seek out for fresh New Mexican cuisine.
About El Pinto Restaurant & Cantina:
Established 50-years ago, El Pinto is a quintessential icon for New Mexican cuisine. Conveniently located in the North Valley of Albuquerque just off I-25, the serene patios located under beautiful cottonwood trees provide an iconic experience. El Pinto is known nationally for its fire-roasted green chile and fresh flavorful salsa distributed across the national in local grocery stores. The salsa and green chile factory is located on the same grounds as the restaurant. For an authentic taste of New Mexico, visit El Pinto for its iconic food, traditional margaritas, and award winning chile.