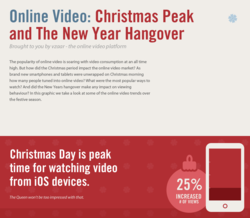 London, UK (PRWEB UK) 16 January 2013
According to video hosting service vzaar, views from iOS devices increased by 25% from Christmas day and these increased viewing levels were maintained for the remainder of 2012. "The growth of mobile video, combined with the popularity of the iPhone and iPad as gifts has meant we have seen a surge in our video viewing figures in the iOS market as people open their new devices and try out their capabilities," vzaar CTO Adrian Sevitz says.
Video consumption from the iPod, however, bucks the trend, with much flatter viewing figure levels than its iOS siblings. The least popular device from which to view videos during Christmas was the Windows 8 which accounted for just 1% of total online video views. "Despite the relatively low impact of the iPod on the online video market, it was still far more popular than the Windows 8 which was virtually non existent," Sevitz reports.
Alongside its statistics vzaar also produced an infographic to show the online video trends it has observed during Christmas and New Year.
vzaar's increase in mobile viewing figures reflects a trend within the online video market as a whole. Video is expected to constitute more than 50% of all mobile traffic in 2013. Within this market, vzaar reports iOS devices are the most dominant with twice as many videos being watched on iOS than Android. According to Sevitz, "Android remains a popular choice and sales during Christmas may have been high but that is not reflected in the data we're seeing. It appears that Android users are far less likely to watch videos on their Smartphone than their iOS peers."
The peak in video consumption during Christmas was swiftly followed by a slump on New Years day. Sevitz speculates, "For people suffering with hangovers from New Years Eve watching online video may be the least of their concerns! Whereas those winding down after Christmas dinner appear to turn to their mobile devices and watch more videos."
Despite the shift towards mobile video, viewing video from the desktop is still by far the most popular, with 79% of Christmas views coming from the desktop. "Most online videos are watched from the desktop, but we are seeing a rise in mobile video consumption. The gap between desktop and mobile has started to narrow and we expect this will continue into 2013", says Sevitz.
About vzaar
vzaar provides video hosting for businesses that need their videos to do more than just play. Created and designed for those who recognise the power of online video, vzaar's easy to use, intuitive interface formats video content for audiences across the globe to ensure your videos are playable on every device on the planet.
Founded in 2007, vzaar has offices in London, UK and Boston, MA. With over 1800 users across six different continents, vzaar is a proven business solution and counts film director Oliver Stone among its investors.
For more information and to register for a 30 day free trial of the vzaar video hosting platform visit http://vzaar.com. For inquiries call 1-877-831-7110 (US) or 020 7820 6280 (UK)