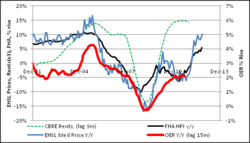 The next three months are likely to be less encouraging on the inflation front than were the last six.
Morristown, NJ (PRWEB) January 16, 2013
The Bureau of Labor Statistics (BLS) today reported that headline inflation was flat in November, while core inflation (which is more important for forecasters and policymakers) increased a smaller-than-expected 0.10%. This second consecutive disappointment in core CPI brings the year/year change in core inflation to 1.89%, slightly lower than last month's 1.94%. Here are Enduring Investments' thoughts about this important data release.
The slight deceleration in the y/y rise in core prices continues to be driven by core goods prices. Core services prices remain +2.5% y/y, but core goods prices have decelerated to only +0.3% y/y (versus +0.5% y/y as of last month). In core services, the important categories of Primary Rents and Owner's Equivalent Rent were both essentially unchanged, at 2.69% and 2.10% y/y versus 2.73% and 2.14% last month.
Unusually, a majority of the major groups in the basket neither accelerated nor decelerated on the month. Food & Beverages, Housing, Apparel, and Education/Communication were all flat. That's 65.3% of the consumption basket. Medical Care and "Other" decelerated slightly (12.2% of the basket), while Transportation and Recreation (22.4% of the basket) accelerated slightly.
Core inflation is essentially unchanged from August 2011. This quiescence has been driven by a flattening out of the recovery in rents, and as noted above a deceleration in core goods prices. Both of these conditions are likely to change going forward. Core goods prices, at +0.3% y/y, have more room to rise than to fall; and rents are very likely to rise in a lagged response to the rise in existing and new home prices (see chart at right). The next three months are likely to be less encouraging on the inflation front than were the last six.
Enduring Investments is a specialty investment management firm with a focus on inflation and inflation markets. We are available to discuss today's CPI release and other inflation and macroeconomic questions.