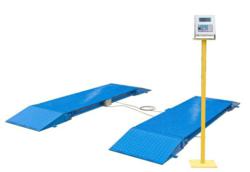 Olive Branch, MS (PRWEB) January 17, 2013
Floor Scales Direct provides its customers with a comprehensive assortment of floor and axel scales that assist a wide variety of small and large businesses in an even wider variety of industries. Floor Scales Direct has recently updated its online selection of floor scales and axle scales. These scales are available for immediate purchase.
Axle and floor scales are typically not in the forefront of a business professional's mind until he or she needs something accurately weighed, measured, and distributed. Businesses that deal in freight, shipping, receiving, or distribution all rely on floor scales to help streamline weighing and measuring various goods from around the world.
A floor scale is any platform scale that has been designed for installation with the platform surface at or near floor level. Often these scales assist with warehouse shipping and receiving, container weighing, pallet and skid weighing, drum weighing, Gaylord weighing, and other industrial applications. The floor scales provided by Floor Scales Direct are easy to set up, highly accurate, and are manufactured using heavy duty steel construction.
Another popular type of scale that Floor Scales Direct provides its customers is known as the axle scale. Axle scales are also referred to as truck scales as these types of scales are the most efficient means of weighing a truck, its individual axles, and its load weight. These types of scales are found all over the world in highway weigh stations and without these scales our highways would be subject to additional roadway damages and danger.
Overloaded trucks are one of the biggest dangers modern motorists face when driving on highways and public roadways. Axle scales allow vehicle operators to check their total load weight, which helps keep overloaded vehicles off the road.
Floor Scales Direct provides a huge selection of axle scales, all of which are available for immediate purchase. Much like floor scales, these scales feature easy setup, high accuracy, and heavy duty steel construction. All of the Floor Scales that are provided by Floor Scales Direct have been designed to work in outdoor environments. As a result all components are watertight and can be installed in any outdoor environment.
For more information on Floor Scales Direct, axle scales, floor scales, or other products visit http://www.floorscalesdirect.com.