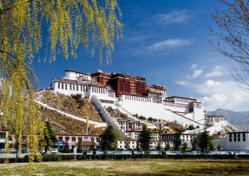 ". . a memorable experience that mixes the spectacular landscapes, ethnic culture and mysterious religions." - Aaron.
(PRWEB) January 16, 2013
WindhorseTour, a travel company that specializes in tailor making Tibet Tours for foreigners has just released their 2013 Tibet Join In Tours calendar of departure dates.
Tibet, known as the roof of the world, is a popular destination for travelers, adventurers, photographers and hikers from all over the world. "It is definitely a must see place!" said by Aaron. "You can have a memorable experience that mixes the spectacular landscapes, ethnic culture and mysterious religions here."
Snow capped mountains, pure blue skies and lakes, and devout pilgrims turning their prayer wheels are some common sights of Tibet.
In 2013, you can travel with WindhorseTour to gain a new understanding of this marvelous land.
The new Tibet small group tours will give you several ways to explore this magical land. Stay in Lhasa to discover the historical and religious sites, trek to Mount Everest Base Camp to capture its majestic scenery, or have an overland trip across the Tibetan Plateau to experience the Tibetan culture.
"Everything we offer in the new Tibet group tour aims to meet all the needs of our clients," WindhorseTour said. WindhorseTour provides opportunities that many travel agencies lack. This includes slower trips that allow tourists to experience the sights and scenery that Tibet provides. WindhorseTour also aims to ensure all travel goers are able to fully engulf themselves in the Tibetan experience.
WindhorseTour also has some suggestions for those who plan to travel to Tibet, the most important being how to get a Tibet Travel Permit. All foreigners require a permit if they want to travel to Tibet. It can be obtained from the Tibet Tourism Bureau (TTB), and all travelers should deal with local registered agencies in advance to get a permit. WindhorseTour has the latest information from the TTB and are pleased to help their clients get a permit.
"We do not want our clients lose their chance to visit this wonderful place because of the permit issues." WindhorseTour said. Please contact WindhorseTour for more information about travel to Tibet.