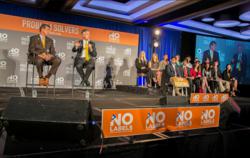 The JSA's commitment to convince their members of Congress to put problem solving first and fix the government is a strong first step toward building trust across the aisle in Washington

-Mark McKinnon, No Labels Co-Founder
New York, NY (PRWEB) January 15, 2013
More than 250 students from the Junior State of America (JSA), including all 10 of its student Governors attended the No Labels Citizen Training on January 13th, 2013 and the No Labels Meeting to Make America Work in New York City on January 14th, 2013. There they met with over 1,300 other concerned citizens who gathered under the banner of No Labels to learn more about what they can do to spur political leaders to action on serious issues.
"America's youth are truly the victims of a dysfunctional government -- it's their future that's at stake," No Labels Co-Founder Mark McKinnon says. "The JSA's commitment to convince their members of Congress to put problem solving first and fix the government is a strong first step toward building trust across the aisle in Washington."
JSA students played a special role in the conference, learning valuable skills that they will apply in urging their members of Congress to join the Problem Solvers Group. This group of lawmakers from both parties has pledged to meet in order to work across the aisle on issues such as the national debt. JSA students, with their new training, will work with business leaders and interest groups such as the League of Women Voters to expand this group by helping to add their own members of Congress.
"The hyper-partisan gridlock that we're seeing in government today hurts young people disproportionately. Many of our problems could become impossible to fix in 20 years if today's leaders don't find solutions now. It's only natural that JSA and No Labels would partner together given JSA's unique brand of civic engagement training which emphasizes civility across partisan lines," said Jeff Harris, JSA CEO, who attended the meeting with the students.
No Labels is a grassroots movement of Democrats, Republicans and independents dedicated to promoting the politics of problem solving. Their proposals, such as the No Budget, No Pay Act, a five-day workweek, a nonpartisan fiscal report to Congress, and the Problem Solvers Group in Congress, are designed to make Washington work.
Junior State of America (JSA):
Providing civics education and leadership programs for nearly 80 years, JSA is the largest student-run organization in the United States. School-year programs take place in more than 450 secondary schools in 35 states, with more than 10,000 members. The JSA program is supported by the Junior Statesmen Foundation Inc., a 501(c)(3) tax-exempt educational corporation, which provides guidance to JSA's student leaders. It has offices in San Mateo, Calif., and Washington, D.C. More information is available at http://www.jsa.org or jsa(at)jsa(dot)org.
# # #