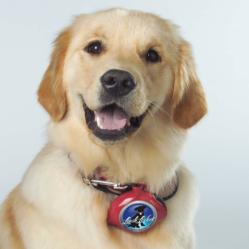 LeashLocket, the revolutionary, collar-mounted, retractable leash has been upheld as patentable on all twenty-nine claims.
Denver, CO (PRWEB) January 17, 2013
"First-to-market is an incredible position to be in, but to have the only patented product in a specific niche is the optimum place to be," said David Marshall, CEO of LeashLocket, Ltd. "It has been an incredible time for LeashLocket."
LeashLocket™'s design was perfected through more than two years of development and production by a team of ten engineers and leading pet-product experts. Today it is the premier collar-mounted, retractable leash on the market, and provides an excellent way for pet owners to improve the control, safety, and convenience of every walk with their dog.
Using LeashLocket™ is a snap. After fastening the magnetic snap attachment around the dog's collar or harness, just connect the snaphook to the dog's D-ring as usual and use it in the same manner as any other retractable leash. At the end of the walk, retract LeashLocket™ all the way to the dog's collar or harness and then snap the locket onto the collar attachment. The dog is now carrying the leash securely on the collar or harness, ready to grab and go the next time it is needed!
About LeashLocket, Ltd.: LeashLocket, Ltd. was formed in December 2009 with the objective of manufacturing and supplying high-quality, safe pet products. A portion of the proceeds from LeashLocket™ sales helps abused, neglected and lost pets through the LeashLocket ASTRO Foundation. Headquartered at 2442 South Downing Street, Denver, CO, 80210, LeashLocket, Ltd. is reachable by phone at (877) 698-2001, with faxes received at (303) 698-2001. Please direct general inquiries to info@leashlocket.com.
For media and image requests: please contact LeashLocket, Ltd. Communications Director Leah Overton at loverton@leashlocket.com, or at (303) 698-2000, cell (619) 549-2411.