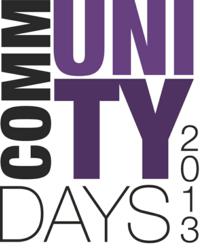 Milwaukee, WI (PRWEB) January 15, 2013
The Bon-Ton Stores, Inc., (NASDAQ: BONT) which operates Bon-Ton, Bergner's, Boston Store, Carson's, Elder-Beerman, Herberger's, Parisian and Younkers stores, announces its Community Days fundraising event will be held on Friday, March 1 and Saturday, March 2 . Thousands of non-profit groups have already signed up and are selling savings booklets in their neighborhoods and online to raise money. Donors can purchase a savings booklet online at bonton.com or communitydayevent.com and direct the funds to the participating organization of their choice. The Bon-Ton Stores will mail booklets to donors free of charge.
The savings booklets contain over $400 in savings on in-store and online merchandise and can be used during the Bon-Ton Community Days event on March 1 and March 2.
"Bon-Ton knows how vitally important these local organizations are to the communities we serve," said Brendan Hoffman, President and Chief Executive Officer of The Bon-Ton Stores, Inc. "We're very proud of the contributions we've made through our Community Days."
Groups may sign up now at http://www.communitydayevent.com. Eligible Community Day organizations include 501C-3 nonprofit organizations and schools. Non-profit groups sell savings booklets for a $5 donation to support their group and, in return, the purchaser receives the valuable booklet of offers which instantly pays the donor back with a $10-off on $10 or more item-coupon and a 25% off shopping pass at Bon-Ton Stores and online at bonton.com on March 1 and 2 . The organization keeps 100% of the $5 donation. When a group registers to sell the books online, they will receive a unique online selling link that can be used to e-mail supporters, friends and family. This link can also be used via social media; sellers are encouraged to post their link on Facebook and Twitter.
The 2012 Community Days events raised $10.3 million by participating non-profit organizations. Successful organizations have raised thousands of dollars by participating in this event. View testimonials on http://www.communitydayevent.com and find out first-hand what groups are saying about their success while learning more about how non-profits can benefit from this event.
The Bon-Ton Stores, Inc. operates 273 stores, including 11 furniture galleries, in 24 states in the Northeast, Midwest and upper Great Plains under the Bon-Ton, Bergner's, Boston Store, Carson's, Elder-Beerman, Parisian, Herberger's and Younkers nameplates The stores offer a broad assortment of brand-name fashion apparel and accessories for women, men and children, as well as cosmetics and home furnishings. The Bon-Ton Stores, Inc. is an active and positive participant in the communities it serves. For further information, please visit the investor relations section of the Company's web site at http://investors.bonton.com. Facebook.com/bonton Twitter: @bonton.