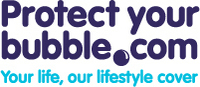 (PRWEB UK) 17 January 2013
Those who love their gadgets and live for the latest and greatest no doubt caught the CES show. The Consumer Electronics Show features the newest, greatest and most popular up and coming gadgets and devices. Protect Your Bubble, gadget insurance company, has a list of the top 10 products released at the show, with some of them due in the U.K. in due time or are already currently available.
10. OD-11 Cloud Speaker – Online music is more popular than the ubiquitous CD, and this wireless speaker obviously hits or list at 10. 26x26x26 cm in volume, it has WiFi and Bluetooth availability. A 100w class D amp means plenty of power for the hottest songs. The remote is touch friendly or adjust volume manually. The Bluetooth 4.0 is a power saver as well, meaning a battery life of up to two years.
9. Lenovo Thinkpad Helix – A Windows 8 ready tablet with 3rd gen CoreTM, 11.6-inch 1080p IPS display that runs as fast as an Ultrabook. Add in NFC, LTE support and those who wish to live in the wireless world may do so with this Lenovo offering.
8. Panasonic Electronic Touch Pen – Those who envy the Sky Sports pundits drawing on the screen after a score will be able to join them in short order. The Panasonic wireless pen allows for scribbling with Viera televisions. Sync to Bluetooth and interact with games, add comments to photos and images. Save to Android or iOS with Swipe and Share as well.
7. Razer Edge tablet – Project Fiona has evolved. The ASUS AiO tablet is a close twin with Windows 8. The Edge has a 10-inch screen, 1366x768 resolution and two choices of processor: Core i5 and i7. Graphics are handled with Nvidia GT 640M GPU. Keyboard and HDMI are attachments available, but the best part is the gamepad case featuring two Wii-like controllers. PC gamers will swoon both at the tablet and the price.
6. Sony Xperia Z – The upgraded Android smartphone sports power to spare. Dust, water and shock resistant, the 5-inch Reality display has Sony's BRAVIA engine 2. 1080p HD and Qualcomm quadcore Snapdragon S4 Pro runs smoothly even when multitasking. 13MP camera on the back 2MP on the front with 4G LTE makes this a king of the beasts in the smartphone world.
5. Huawei Ascend W1 – Chinese mobiles have caught on the Windows 8 bandwagon. At an ultra-thin 10.15mm it has a 4-inch IPS LCD 480x800 plus a 1.2GHz Qualcomm dualcore Snapdragon S4 chip and Adreno 305 GPU. All the memory you could dream of with its 4GB internal memory and 32GB microSD compatible and a 5MP camera. Grab one if interested in updating a smartphone or a desire to swap to Windows.
7. LG 65-inch Ultra HD TV – The 84-inch at £22k TV may be for the ultra-wealthy, but a 65-inch smaller sibling makes for one affordable by the rest of us. 8 million pixels per frame, LG's Magic Remote has over 1,400 apps available and 3D Sound Zooming gives the illusion of distance. Those who live for the sound will love the two 15w woofers and two 10w speakers as standard. But there is a wait until August to own one.
8. Aedle VK-1 – The French may be better known for cheese and wine, but the Aedle headphones are something out of James Bond. Aircraft grade aluminum and lambskin leather make these look like something for the aristocrats of the world, but the titanium diaphragm and 40mm drivers are anything but proletariat.
9. EA Sports MVP Carbon by Monster gaming headphones – Beats by Dre threw in a hand in making these headphones along with EA Sports for a cans that make orders sound like they are in the same room. The sound transcends 5.1 surround thanks to the HDHS (High Definition Headphone Surround) technology. Headband and breathable materials are ideal for those who game well into the night.
10. Samsung S9 UHD TV – Timeless Gallery Frame is Samsung's new solution to a virtual bezel-free body on an 85-inch titan of a television. Add 120w of sound from built-in speakers and upscaling technology for Blu-rays make the newest releases shine. Voice and gesture is standard so those who are always loosing the remote down the back of the sofa may now rejoice.
Another reason to rejoice is in addition to buying a new gadget, there is insurance from Protect Your Bubble, to protect many gadgets Find out more at Protect your bubble for quotes, information and more.
About Protect your bubble UK
Backed by a Fortune 500 company, Protect your bubble is the UK's largest specialist gadget insurer that also offers a wide range of insurance products including travel insurance, car excess insurance, home insurance and pet insurance; all at wallet-friendly prices.
Related Links:
Mobile Phone Insurance - uk.protectyourbubble.com/gi-mobile-phone-insurance.html
Gadget Insurance: uk.protectyourbubble.com/gadget-insurance/
TV Insurance: uk.protectyourbubble.com/tv-insurance.html
Find Us On:
Facebook: facebook.com/ProtectYourBubble
Twitter: twitter.com/protectyrbubble
YouTube: youtube.com/user/protectyourbubble