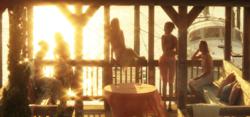 Being a teenage girl is confusing, bewildering and scary. To.get.her tells a story a teenage audience can recognize and identify with that entertains but also disturbs and, in turn, opens up a crucial conversation.
Wilmington, NC (PRWEB) January 15, 2013
To.get.her shot entirely in Wilmington, NC, releases digitally January 15, 2013 to iTunes, Xbox, Playstation, Amazon, Vudu, Google Rental and SundanceNow as part of a Sundance Institute unveiling of 12 specially selected films in advance of the 2013 Sundance Film Festival. To.get.her explores the secrets and lives of teenage girls showing that though they have not changed, their world has. Parents will gain shocking insight into this world and an urgency to stop texting and start talking to their teen daughters. Teens will realize they are not alone and that there is value in gaining perspective beyond their peer set. To view the trailer: [http://www.youtube.com/watch?v=WHFGgkL_pcA __title__ To.get.her trailer]
Release Dates
January 15, 2013: iTunes, Xbox, Playstation, Amazon, Vudu, Google Rental, SundanceNow
February 15, 2103: Hulu, Netflix
Premise
All teen girls have secrets. For five friends on the cusp of high school graduation, stealing away to a beach house for a "night of no consequences" seems like the perfect opportunity to escape the darker consequences of their real lives. Winner of THE BEST OF NEXT AUDIENCE AWARD at Sundance 2011, To.get.her was heralded by This Week as "one of the Smartest Films ever seen at Sundance." Cleverly constructed and impeccably tuned, it is a sexy, visually luscious mystery thriller that keeps the tension taut and the viewer guessing as the tale unravels of the girls' lives and dangerous connection. The film explores serious issues including abuse, suicide, sexual identity, broken families, trust and more – issues crucially important for parents to talk about with their daughters. To.get.her strongly suggests in the absence of parental or adult perspective, bad decisions can multiply rapidly and escalate virally through social media and texting.
Who
Writer, Director and Producer:
Erica Dunton
Cast:
Ana - Jazzy De Lisser
China - Chelsea Logan
Emily - Adwoa Aboah
Abigail - Audrey Spechier
Zoe- Jami Eaton
Margaret - Jill Jackson
Robert - Ed Wagenseller
Peter - Jon Stafford
Bryan - Jason Davis
Paul - Cullen Moss
Ruth - Traci Dinwiddie
Gus - Taylor Kowalski
Daniel - James Forgey
James - Joshua Petersen
Accolades

Winner of Best of Next Audience Award, Sundance Film Festival 2011
Winner of Audience Award for Best Fiction Film, Sarasota Film Festival 2011
Winner of Audience Award for Best American Indie, Riverun Film Festival 2011
1 Of 3 Finalists for Best Independent Feature, Cinegear Film Series 2011
Nominated Best Screenplay Milan Film Festival 2011
Nominated Best Cinematography 2011
Director's Statement
As a filmmaker and woman, the world of the teenage girl has always fascinated me. It is such a complicated time in our lives. You are not only developing physically but discovering your personality, intelligence and power. It can be confusing, bewildering and downright scary. I wanted to make a film and tell a story that represented that time, a story that a teenage audience could recognize and identify with. A story that would not only entertain but also disturb -- and perhaps, in turn, open up a very crucial conversation.
Production Points

The Budget was $27K and the film was shot it 12 days.
Shot entirely in Wilmington, NC.
Shot on the Canon 7D stills camera with 35mm anamorphic lenses.
85% of the film shot on 600mm lens that Joe Dunton specially designed.
The remaining 15% was shot on a 100mm lens.
Erica Dunton designed a set of filters that were used on the film.
Post for the film was in London, NY and NC.
Erica Dunton cast the film herself without a casting director.
This was the first feature for all the lead actresses.
The soundtrack is mainly made of unsigned artists Erica Dunton got in touch with through Myspace or friends she knew who were musicians
Themes: Teenage girls, gay youth, social networking, thriller, mystery, micro budget, new technology, parents of teenage girls.
Links

Interviews, Digital Screeners, DVD's Press Notes, Stills
To arrange interviews, obtain press notes, digital screeners or DVDs, or high resolution stills, contact Michelle Moore, mobile +1-614-633-8124 or moore-galvin(at)mindspring(dot)com or infotogethermovie(at)gmail(dot)com.
-End-